Summary
Table of contents
This is our summary of the week 30 on the European dairy market divided into 4 main categories.


Powders

Despite more inquiries on SMP and a fairly stable price for concentrate, there is still a sense of uncertainty – mainly due to the unpredictability of governments over possible lockdowns in the fall. End users remember last autumn, when they had full stocks of raw material and their production was limited due to the lockdown. After a few, rather calm weeks, new inquires from export destinations are incoming. WPC80 and WPI90 stable.

Cheese

This is not the best time for cheese. Low interest from buyers – prices around 3 EUR/kg EXW DE/NL. However, the interest in cheese offcuts is not declining.

Fats

Due to the increase in the price of cream, the price of butter production in Poland fluctuates at the level of 3.80-3.82 EUR/kg EXW PL and the producers believe that this trend will be maintained. Stocks of frozen butter are high. The demand for butter cubes is steady. However, the interest in AMF has weakened  – the situation should change at the end of the month, when Buyers return to their offices and check their stocks.

Liquids

Prices of raw milk are consolidating across Europe comparing to previous weeks. Producers claim that this will be the trend now. SMC was rising for another week by 50-100 EUR/MT. Diminishing quantities of cream caused a rapid increase in price at the levels of 100-150 EUR/MT. It might have an influence on butter.
Learn about Soy Protein Isolate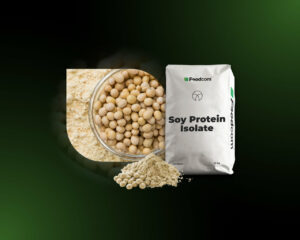 ---
Technical aspects
Soy Protein Isolate is a light colored powder with a neutral taste. It is made by extracting most of the fats, carbohydrates and non-protein components from the soybeans, leaving a product that is almost pure protein. The soybeans are dehulled, the protein is extracted using solvents or water, and the resulting material is dried to a fine powder.
Soy Protein Isolate is an excellent source of protein and is highly digestible. It is also known for its foaming, emulsifying and gelling properties. It plays a crucial role in enhancing the flavor of foods, increasing the elasticity of foods, and improving oil and water retention.
---
Application
Soy Protein Isolate is mainly used in the food industry. In the production of meat, it is used for its emulsifying, water-binding and gelling properties. Soy Protein Isolate is also used in the manufacture of vegetarian products as a substitute for zoonotic protein. Due to its high nutritional value, it is also used in the production of energy bars.
Soy Protein Isolate is also used in animal feed. It serves as an excellent source of high-quality protein that supports animal growth, muscle development and overall health.
Soy Protein Isolate also finds its uses in sports nutrition. Supplements based on Soy Protein Isolate are well absorbed and rich in complete protein, so they are suitable for those who need to recover from intense training and build muscle mass.