Summary
Table of contents
This is our summary of the week 10 on the European dairy market divided into 4 main categories.
Powders
Food and feed SMP were rather stable at the beginning of the week, but as the interest in skimmed and whole milk was rising and SMP followed. In the middle of the week, traders and market in general got active and many inquires for prompt loadings and for Q2 were coming. After stabilizing and slight decrease, last week's whey prices also strengthened. In Western Europe, they are already well above 1000 EUR/MT. It is not due limited availability, but it is related to the increased activity of Chinese players. SWP, acid whey, permeate, and lactose is going up as well. WPC is also firming.
Cheese
Last week was another consecutive week of price increases in the cheese department. As for March and April, the deals are concluded at higher levels than previously. It can be attributed to the fact of hefty raw material costs and elevated interest. End-users seem to be interested in filling their stocks.
Gouda/Edam as well as Mozzarella is going further up. Cagliata follows the trend. Prices for May are stiff.
Quotations should not go down as the interest from in and outside the EU is significant and this is only the beginning of the cheese season.
Butter
After a few weeks of price rises and commotion on the market, last week in the butter department was rather calm. Market participants were getting used to the current situation. Producers settled down and the prices were not that steep. Many end-users covered their needs and the market stabilized. In previous weeks buyers were not able to finish transactions as the deals were gone so fast and the prices were already not corresponding. Now, they managed to confirm it in a calmer manner and the interest slowly weakens. Anyway, expectations for Q2 and Q3 are still high for sweet and lactic as well. However, transactions are not concluded yet. We will see how it will turn out. Last week's fats increases finally caused AMF to go up. Usually, this product is adjusting slower.
Liquids
The availability of whey concentrate is stable.
Cream started at high levels and then took a step back, but still is more expensive than previously. SMC is a bit lower compared to the week before. Raw milk collection is getting stronger in Europe, which will surely influence the market. This will persist in few upcoming months. Skimmed milk stayed at the same level, but whole milk climbed a bit. The production for Easter has already begun, which will be an important factor for the situation on the market.
Learn about Conventional Hemp Protein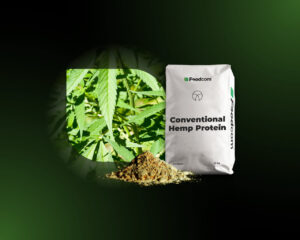 ---
Technical aspects
Conventional Hemp Protein is a fine, grey-light green powder, with a characteristic smell and a nutty taste. It's a Non-GMO produced in the EU. Mesh size of product 200 μm. Hemp protein is rich in fiber, full of good fats, and vegan. It is also hypo-allergic, thus compliant with lactose-, gluten-, and soy-free diets. The product contains fatty acids, notably omega 3, 6 and 9. Hemp protein is characterized by higher levels of arginine – almost 12% compared to an average 7% in other proteins derived from wheat, rice, or soy.
---
Application
Conventional Hemp Protein is widely used in sports nutrition including protein-enhanced bars, granola mixes, cereals, nuts, shake premixes, smoothies, and a variety of beverages. It is also applied to products that bolster cardiovascular health. Other food products with hemp protein include butter, pasta, bakery and confectionery products, and ice-cream.
Sign up for our Newsletter to learn more about our products