Summary
Table of contents
This is our summary of the week 11 on the European dairy market divided into 4 main categories.
Powders
SMP grew stronger across Europe last week.
Market is solid, demand is steady. There is still a problem with the availability of the shipping containers for export destinations. Certainly, less milk this year means additional delays in deliveries and some market participants are forced to buy the goods for a higher price.
FCMP both prices and demand remain high. 
Nevertheless, last week prices, stopped their climb. In some cases we even saw a slight revision.
Whey prices strengthened again in both Western and Central Europe. 
This was mainly due to the undiminished demand. Moreover, EU prices are still competitive, which results in greater interest in importing goods from Europe. The number of requests for WPC is not declining, and it was another week of increases and high demand, both from European and Asian directions.
Cheese
Cheese prices stabilized last week.
There is a lot of resistance on the market to higher prices which the producers try to force. Buyers were 100 EUR below what the producers were offering. These are the prices that now apply to Gouda and Edam.
Cheese production is increasing and demand persists. 
Cagliata and Mozzarella prices remain high, although prices have settled at stable levels. Despite lockdowns in some countries, demand from Horeca is low, yet consistent.
Butter
After a few weeks of price rally, the situation has changed. Bids were kept at the same level and sometimes were lower than previously. It is clear that most of the big buyers have made pre-Easter purchases, and now it is quieter on the market. Traders who have spare quantities are able to offer a slightly lower price than it comes out of production. The demand for butter in cubes does not decrease.
AMF remains stable.
Liquids
The amount of milk in Central Europe is lower than in the corresponding months of previous years.
In addition, the month-to-month growth of the raw milk collection is lower than expected. The weather had a great influence on this situation. We are waiting for what will happen in the upcoming weeks. Spot milk and cream prices were stable at the beginning of the week, but a slight correction was visible in the second half. Even so, the prices are still high. Butter from spot cream is much above buyers' expectations. SMC high availability, prices are relatively stable. Whey concentrate fairly firm.
Learn about Methionine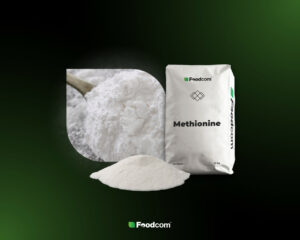 ---
Technical aspects
Methionine is an essential ingredient allowing for complex protein synthesis. It allows the animal to use the rest of the amino acids.
---
Application
Methionine is an important ingredient in animal nutrition. The product is added to feed premixes in order to maintain the desired level of methionine which can be insufficient in other protein sources like soybean or rapeseed.
High-yielding cows need increased levels of methionine for milk production. The product also results in fewer health disorders and a lower number of pregnancy losses. In a piglet diet, methionine is partially responsible for creatine synthesis. Added to poultry feed, it allows for increased egg production, muscle mass buildup, and a healthy digestive tract.