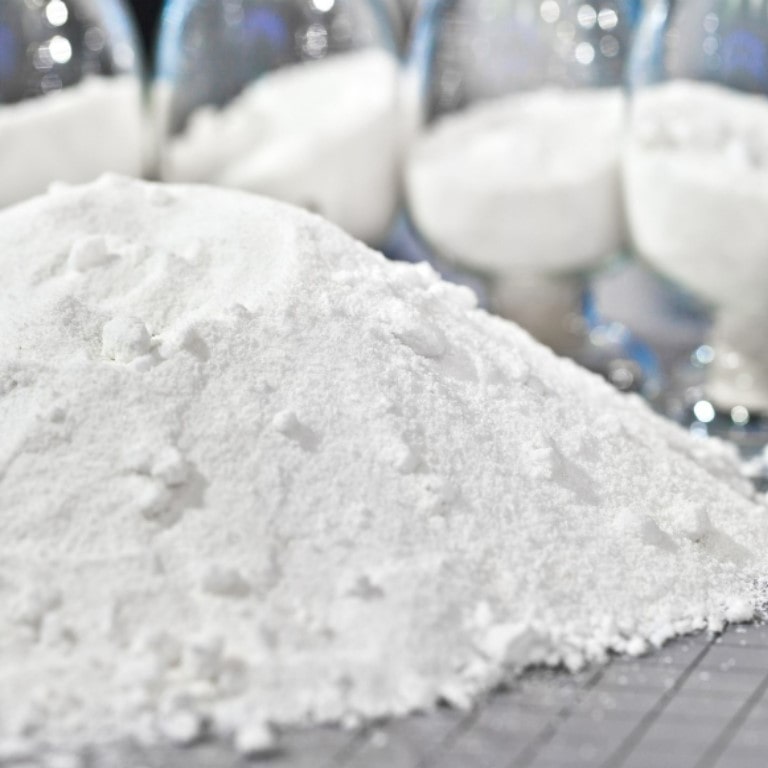 Magnesium Oxide is an inorganic magnesium salt composed of magnesium and oxygen. It occurs naturally in the form of the mineral periclase, but is also obtained by burning magnesium or by roasting magnesite (magnesium carbonate) or dolomite. It is an ingredient in many commercial magnesium preparations, as it is a mineral needed for the proper functioning of countless processes in living organisms. As an additive in foods, it is listed under the number E530.
Technical aspects
Magnesium Oxide is an inorganic compound that belongs to the basic oxides. Magnesium Oxide has the form of a white, crystalline and hygroscopic substance. It is poorly soluble in water, but readily soluble in acids. Magnesium Oxide is characterized by its resistance even at high temperatures and is corrosion resistant. It has high thermal conductivity but low electrical conductivity.
Alternative names: magnesia, magnesium oxide light, magnesium oxide heavy, MgO, E530.
Shelf life
The shelf life of Magnesium Oxide is two years.
Packaging
Foodcom S.A. offers Magnesium Oxide in 25 kg bags.
Applications
Magnesium is an important mineral in the diet of farm animals, especially cattle and sheep. Its absence or deficiency can cause grass tetany and other disorders, and it is also used to reduce stress in animals. Magnesium Oxide can be used in medicine and pharmaceuticals – it helps with digestive problems. It is also an ingredient in dietary supplements for people who are deficient in this mineral, and it supports the normal function of the human body. As a food additive, E530 is an anti-caking agent.
It is also used in the production of cement, castings, refractory vessels and crucibles. Boards made of magnesium oxide and used in construction are resistant to moisture and fungus and are very durable.
Magnesium Oxide is also used in the cosmetics industry. Its odor-neutralizing properties are used in the production of antiperspirants. Athletes often use magnesium oxide in climbing or weight training, as it prevents their hands from slipping. It is also successfully used in the heating industry in the manufacture of oil heaters, heating and non-combustible pipes or storage heaters.
How to order?
Are you wondering how to order our products? Contact us by sending a message!

Our B2B trade specialists will contact you within one hour of sending your inquiry during office hours. We will provide you with information about the product, its origin, price and method of delivery. We will also help you make a decision as to the choice of a specific product by presenting its industrial applications. As wholesale specialists, we will be able to provide high-level service with transparent trade rules. All trading transactions run smoothly with us!
Why Foodcom?
Our great team of Sales Support will help our Traders conduct the contract and business deals in a smooth and efficient way to ensure the best quality service to all our Business Partners. Our logistics team will take care of transportation and the financial department will be responsible for all matters connected with the financial part of the deal.
Our certificates



Want to start a cooperation?
Inquire for a customized quote