Summary
Table of contents
In the EU, the term "Organic Milk" refers to products containing at least 95% organic ingredients and have restrictions on antibiotics, pesticides and genetically modified organisms.
The United States leads the Organic Milk market, but European countries such as France, Germany and the United Kingdom are also major players.
The popularity of Organic Milk is increasing due to changing consumer preferences and increased health awareness.
Discover with us the Organic Milk market in Europe! Learn more about the EU requirements for organic farming, the main producers and production statistics. In the following article you will find all the information you need about the European Organic Milk market.
What is 'Organic Milk' in the EU?
According to the European Commission, the term 'organic' is suitable for labeling products that contain at least 95% organic ingredients. The main principles of organic farming in the EU include crop rotation, high biodiversity and strict animal welfare standards. The use of antibiotics, chemical pesticides and genetically modified organisms is severely restricted.
Organic Milk
is produced in a carefully controlled organic process. The product appears as a homogeneous liquid with a characteristic odor and a creamy white color. Organic Milk comes directly from the cattle and contains varying amounts of fat, protein and lactose.
Organic Milk is the basic ingredient for most dairy products. It is used to make a variety of products such as yogurt, butter, cheese, cream and many others.
Production of Organic Milk
Global and regional players play an important role in the Organic Milk market. In 2022, the United States accounted for 33.5% of the global Organic Milk market and was worth $7.8 billion. European countries, particularly France and Germany, are also important players. The United Kingdom is the third largest country in Europe in terms of Organic Milk consumption and is also among them.
According to available data, the global Organic Milk market value grew from $19.5 billion to $22.4 billion during 2017-2021, representing a compound annual growth rate (CAGR) of 3.6%. In turn, from 2022 to 2032, the global Organic Milk market is expected to grow from $23.2 billion to $32.8 billion, representing a compound annual growth rate ( CAGR) of 3.5%.
Prospects and challenges in the Organic Milk market
As you can see, the popularity of Organic Milk is increasing, which is influenced by several aspects. One important factor is the changing preferences of consumers, who increasingly appreciate organic products, including milk, due to their natural origin and the absence of artificial additives. Awareness of the health benefits of Organic Milk is leading to an increase in demand for these products. In addition, the outbreak of COVID -19 has contributed to a change in consumer dietary preferences. Consumers now show a greater propensity to consume healthy products to boost their immunity.
One of the challenges for Organic Milk producers is that the vegan population is growing worldwide. This is increasing the demand for plant-based dairy products instead of traditional Organic Milk.
New regulations are also an important aspect affecting the market outlook. For example, an ambitious EU Farm to Fork program has been launched to increase the share of sustainable agriculture to 25% by 2030. However, it also has drawbacks, as there are serious concerns in the organic
dairy
industry about customers' willingness to pay more for such products. In 2018, for example, the most significant difference was observed in Austria – the retail price of Organic Milk was 53% higher than that of a conventional product, while in the Netherlands it was only 9% higher.
Why Foodcom?
Our great team of Sales Support will help our Traders conduct the contract and business deals in a smooth and efficient way to ensure the best quality service to all our Business Partners. Our logistics team will take care of transportation and the financial department will be responsible for all matters connected with the financial part of the deal. Do not hesitate!
Contact us.
Learn about UHT Milk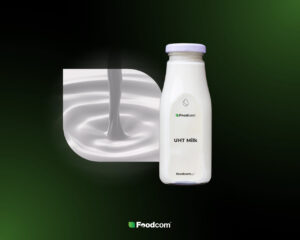 ---
Technical aspects
In the production of UHT Milk, the milk is heated to about 140°C for 2-5 seconds to sterilize the product and prevent the growth of bacteria that cause milk spoilage. This heat treatment guarantees the sterility of the product.
High temperature processing extends the shelf life of UHT Milk with less chemical intervention than other lower temperature processes. The result is a higher quality end product without loss of vitamins and nutrients.
---
Application
UHT Milk can be used as a base product for many dairy products. Depending on the process, it is used to make yogurt, butter, cheese, cream and many other products. UHT Milk is also popular as an ingredient in dairy drinks. It can be used to make milk chocolate, creams and other confectionery products that need to have a longer shelf life.