Summary
Table of contents
Read our report on EU trade of main dairy commodities in 2020. Take a look at increased butter exports, learn which country intensified the orders, and which suppliers decreased their butter shipments. Discover the changes in the international trade of milk and whey powders and see which countries purchased the most products. Learn also which partners supplied the most cheese to the EU in 2020.
BUTTER EXPORT
Although decreasing in the second half of the year, total butter exports in 2020 marked a 15% rise compared to January through December 2019 (data without the UK). In the period between January and December 2019, the overall butter exports from the EU (without the UK) to Third Countries amounted to over 240 000 tonnes, an increase of over 21% compared to the same period in 2018.
In the last year, the main buyer of European butter was the USA, gradually increasing the purchases every year up to 37 676 tonnes of the product bought in 2020, a growth equal to 14% increase compared to 2019. From January to December 2020, almost 80% of the USA's EU butter acquisition came from Ireland – while in 2019 it was over 84%. Saudi Arabia ranks second in EU butter purchase with 17 728 tons of the product acquired in 2020  (a year-on-year increase of 96%). In third place is China with an import of 14 584 tonnes of European butter, which translates to a 41% YOY increase.
Last year Switzerland bought a total of 5 743 tonnes of butter from the EU compared to 296 tonnes in the previous year. In 2020, Ukraine raised its acquisition of EU butter by 248% compared to 2019. Mainly Poland supplied butter to Ukraine with shipments amounting to 4 866 tonnes of the product in the period between January and December 2020 increasing from 597 tonnes sold in 2019.
BUTTER IMPORT
In 2019, total EU butter imports from Third Countries equaled 47 000 tonnes, growing from 38 000 tonnes imported in 2018. The year 2020 saw fewer fluctuations than 2019, but imports decreased by 81% in total (data without the UK). In the course of the entire year 2020, the key supplier of butter to the EU was New Zealand, just like in the previous years, but the deliveries amounted to 666 tonnes of the product – an 82% decrease compared to the same period in 2019. However, Japan raised its shipments of butter to the EU from 25 tonnes in 2019 to 239 tonnes in 2020.
SKIMMED MILK POWDER (SMP) EXPORT
EU exports of SMP to Third Countries have been rising since 2016 and amounted to 946 000 tonnes in total in 2019. In 2020, the peak month of SMP sales was July accounting for over 82 000 tonnes, but the overall exports compared to the previous years decreased by 13%.
The product was mainly sold to China with shipments of 121 089 tonnes in total, which was a decrease of 1%. The major part of the shipments came from France with 25 562 tonnes, Finland with 24 460 tonnes, and Germany with 21 873 tonnes. Algeria ranked second with 118 551 tonnes of SMP bought in 2020, a 26% growth from the previous year. The main EU suppliers of SMP to Algeria were Poland with 36 564 tonnes of the product sold and Belgium with 34 532 tonnes. Five countries with similar European SMP imports in 2020 are Indonesia (44 845 tonnes), Nigeria (43 651 tonnes), Egypt (43 561 tonnes), Philippines (41 435 tonnes) and Malaysia (41 120 tonnes). All of them, except Nigeria, noted a decline in imported quantities.
WHOLE MILK POWDER (WMP) EXPORT
The exports of WMP from the EU to Third Countries have beendecreasing since the peak in 2017 and amounted to 315 000 tonnes in total in 2019, but then saw a 12% increase in 2020. The highest WMP sale of 2020 took place in July with over 36 000 tonnes of the product sold that month.
Oman was the key buyer of WMP from the EU with an order of 47 698 tonnes in 2020, an 18% increase from the previous year. The product mainly came from Sweden with 18 650 tonnes and Denmark with 14 660 tonnes. The highest increase of WMP purchases was seen in Algeria with a 102% year-on-year growth in deliveries amounting to a total of 38 158 tonnes in 2020. The list of major WMP buyers from the EU follows with Nigeria, China, and Kuwait. The latter bought WMP almost exclusively from the Netherlands in shipments of 15 732 tonnes. The largest overall order for Polish WMP came from Cuba for 1 232 tonnes of the product in 2020, decreasing from 2 025 tonnes bought in the previous year.
WHEY POWDER EXPORT
In the period between January and December 2020, the overall sale of EU whey powder amounted to 634 940 tonnes, which was an increase from 2019's 583 508 tonnes. The major buyer of the European product in 2020 was China ordering at the level of 248 727 tonnes. Shipments came mainly from Poland (57 652 tonnes), the Netherlands (50 471 tonnes), Germany (33 538 tonnes), and France (46 542 tonnes). Next biggest buyers were Indonesia and Malaysia respectively.
CHEESE EXPORT
Cheese exports from the EU to Third Countries have been rising every year since 2014 and amounted to 1 348 000 tonnes in 2019. In the next year, the overall cheese exports further increased by 8% (data excluding the UK). The peak month in 2020 was July with over 80 000 tonnes of EU butter sold externally.
The key buyers of the product in the period between January and December 2020 were Japan and the USA with 128 086 tonnes and 117 709 tonnes bought respectively. Japan mostly relied on the product from the Netherlands with deliveries of 36 255 tonnes and Germany with 27 454 tonnes. The major suppliers to the USA were Italy with shipments of 31 259 tonnes and France with 20 430 tonnes. The highst year-on-year increase was seen in the purchases made by Ukraine with a 97% rise compared to 2019 with a total of 46 697 tonnes of cheese bought from the EU in 2020. The major supplier to Ukraine that year was Poland with 24 243 tonnes of cheese delivered to its eastern partner, raising the shipments from 10 577 tonnes in 2019.
CHEESE IMPORT
Cheese imports from Third Countries to the EU were similar in 2019 and 2020 (61 361 to 61 375). The largest overall purchase was made in December amounting to around 6 500 tonnes (data excluding the UK). Cheese deliveries primarily came from Switzerland with an overall trade of 55 286 tonnes in 2020. The highest growths in year-on-year purchases were seen in trade with Turkey, the USA, and Australia. The latter scored a 212% rise in cheese sales to the EU equal to 652 tonnes of the product in 2020. Turkey noted a 128% year-on-year growth amounting to 809 tonnes of cheese sold to the EU in 2020.
Learn about Sweet Whey Powder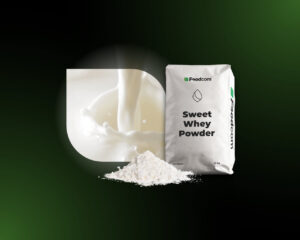 ---
Technical aspects
Sweet Whey Powder (SWP) is a concentrated milk powder that contains 80% milk protein. It is made from fresh pasteurized skimmed milk by filtration, evaporation and spray drying. Sweet Whey Powder is a free flowing powder with a milky taste and aroma.
SWP has excellent foaming, texturizing, water binding and coagulating properties. Its excellent nutritional value is due to its high level of concentrated protein. Sweet Whey Powder also improves rennet coagulation, reduces gel formation and increases curd firmness. It is also characterized by its high solubility and heat resistance. In addition, the addition of Sweet Whey Powder increases calcium and vitamin D levels.
---
Application
The ratio of high-protein to low-lactose protein makes Sweet Whey Powder widely used in low-carbohydrate foods and protein-enriched beverages. It can also be added to baked goods, desserts, dairy drinks, sauces, yogurts, ice cream and cheese. It is a popular ingredient in low-fat and low-lactose products. Sweet Whey Powder can be used as a substitute for whole milk powder or skimmed milk powder, achieving the same level of protein.
Sweet Whey Powder is also used in the manufacture of pediatric, medical, geriatric and sports nutrition products, as well as in meal replacements and weight control products.