Take a look at the highlights from the plant-based feed market around the world. We can observe the constant increases in the price of grain, cooking oil, and energy around the world. The EU and U.S. are facing unfavorable weather conditions, due to low soil moisture. Expertspredict that in the forthcoming months this trend will further accelerate, and they see the necessity of serious discussions in order to prevent a global food crisis. Although world rice production is expected to be at record levels,wheat and corn production is expected to decline according to the USDA.

Technical analysts believe that the current situation in the industry will remain weak for a longer than expected due to a "commodity supercycle". This is expected to last two to three years, showing the dependencies on the food market, as they are linked to political and environmental factors. Right now, the drought, the lack of fertilizers, inflated energy costs, along with the war in Eastern Europe are, are extreme factors driving the market. So even with promising weather conditions and eventual end of war, we are still going to see problems in the future. Some experts warn that even if some of these issues come to ease, we can still expect prices to rise another 20 or 40% in upcoming weeks.

Update: Yesterday rumors were swirling that Russia may allow grain exports from 7 Ukraine ports, under certain conditions. No telling how this plays out, as in times of war promises can evaporate quickly.

Potato protein

We expect a shortage of the material, mostly because of the drought that crossed Europe, potato farmers moving to alternate crops, and lack of fertilizers. Prices should continue to rise, helped by the Belgium government's approval, once more,of the usage of potato protein, up to 5%, in organic feed; the Dutch had already passed that measure recently.  We already have many inquiries, as manufacturers are afraid they won't be able to produce needed quantities, and farmers refusal to sell at lower prices. End users, on the other hand, aim to avoid substitutes, since none of them will meet their requirements. This is because of potato protein's color, creamy texture, and valuable digestibility levels. Check out our article on what can be used instead, though.

Vital wheat gluten

Producers face difficulties in obtaining contracts for these raw materials. Following the wheat ban in India, and the ongoing invasion in Ukraine, producers are completely sold out for the end of the current campaign. There are allegations that wheat from Ukraine is finding their way to Eastern Europe by land. The strict nitrogen legislation imposed a few years ago is still affecting the protein content in the wheat crop. This could be a challenge, especially for the bakery industry, as there are no good substitutes for this product.

Hydrolyzed wheat gluten

In regards to this commodity, there is a complete lack of supply, both for food and feed. Manufacturers are delaying deliveries and refusing to confirm schedules for the upcoming previously planned dates of delivery. Wheat quality may be an issue here, as well as the rise in the price of energy strongly affected this, making it extremely difficult to find hydrolyzed wheat gluten on the market. The Golden Unicorn in Plant Based.

Dextrose

Bid delays from the producers are occurring for dextrose supply these weeks. There is no insurance in the loading dates. Wheat and potato based dextrose is available, but it's not easy to get the one obtained from corn, which has the most demand currently. Corn naturally has high sugar levels and is a good base source from dextrose.

Corn gluten meal

Even though some quantities of Ukrainian corn found its way into Poland by land, it is currently not possible to transport goods from Ukraine by sea, which translates into a maintaining high price for this commodity. We could observe a price increase of 32% in the last weeks. Overall forecasts for global corn production decline, as harvests are expected to be significantly lower. On the other hand, Argentina and Brazil with record production.

Soy flour

It could be stated that soy flour is in demand because the varied sources of soy, so price of the raw materials not being as strongly influenced by different conditions. In an opposing situation can be the case of wheat and corn. Nevertheless, soybean crops are not as demanding to harvest, and plantations can be found in many parts of the world. It is also desirable as a protein source for milk replacer ingredient for manufacturers seeking a cheap source of protein.
Per saperne di più Eritritolo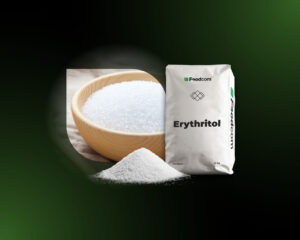 ---
Aspetti tecnici
L'Eritritolo è un granulo cristallino bianco praticamente inodore e dal sapore molto dolce. È altamente solubile in acqua e meno in etanolo.
---
Applicazione
L'Eritritolo è tipicamente utilizzato nell'industria alimentare come dolcificante. Il prodotto può essere utilizzato anche come inibitore delle alterazioni del gusto e della consistenza, come esaltatore di sapidità o come agente addensante. L'Eritritolo viene utilizzato anche in cosmetica come sostituto della glicerina o in campo farmaceutico per la produzione di paste in compresse.