Summary
Table of contents
This is our summary of the week 45 on the European dairy market divided into 4 main categories.



Powders

Producers have a problem with the availability of milk and are not willing to offer SMP for Q1 2022. You can find a product with Q4 receipt from traders at prices ranging 3080-3140 EUR/MT EXW EU. Producers offer at 3100-3150 EUR/MT for Q4, but we see more movement near the bottom range.

FCMP is offered above 3750 EUR/MT EXW EU, many inquiries from outside the EU. It's hard to find free quantities, many have to turn to some substitutes.
SWP stays around 1100 EUR/MT. There is a lot of commotion.

WPC80 is not weakening and the price on Q1 of the product offered by manufacturers is slowly approaching the level of 9450 EUR/MT EXW EU for WPC80 regular.

Cheese

Dutch type cheeses stay firm much above 4.00 EUR/kg EXW. Producers complain about the high price of the raw material and a much worse 'milk collection'.

Cagliata sold at 4200 EUR/MT is no longer a surprise.

Cheddar and Mozzarella are sought-after.

Butter

There is a shortage of sweet butter, fresh production, which is offered above 5.45 – 5.50 EUR/kg EXW DE/NL/PL. On the other hand, the availability of lactic butter is very good, the prices for frozen butter oscillate around 5.10 – 5.15 EUR/kg as the quantities are available.

Due to the high price of cream, however, large amounts of butter in cubes are produced from butter in a block of 25 kg.

Liquids

Milk collection is at the lowest point. It's lower than expected which drives the prices further up. All the liquids stayed steady.

SMC is above 3050-3100 EUR/MT and the availability is low. Cream stayed at the high level and the prices are at 7100 EUR/MT.
Learn about Whey Protein Isolate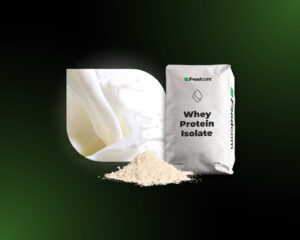 ---
Technical aspects
Whey Protein Isolate is characterized by its neutral taste. It is obtained by concentrating and purifying Whey Protein Concentrate to reduce the fat and carbohydrate content of whey. The process is carried out by membrane separation or ion exchange.
Whey Protein Isolate consists of at least 85% protein and contains less than 1% lactose. Despite the purification process, WPI still contains high levels of calcium and amino acids. In addition, Whey Protein Isolate is low in sodium and fat. It is also highly soluble and dispersible.
---
Application
Uses of Whey Protein Isolate include the general manufacture of desserts, puddings, yogurts, puddings, soups, dry mixes, sauces, confectionery, ice cream, meat. Whey Protein Isolate is also used in dietary products due to its very low fat content. It is also an excellent ingredient for baby food due to its high amino acid content.
Whey Protein Isolate is also a common ingredient in dietary supplements for athletes who have an increased protein requirement.