Summary
Table of contents
This is our summary of the week 23 on the European dairy market divided into 4 main categories.
Powders
Across Europe SMP price remained at the similar levels. However, we can see that the interest for this product is decreasing. FCMP market is stable. Here and there lower prices can be found. Despite the growing quantities of SWC, the price for whey was steady in the whole Europe last week. The reason for WPC80 price rally in Europe is the strong demand and low stock in the US. We expect the market to remain strong until the end of the year. It is still difficult to predict what will happen in Q1-2022.
Cheese
Last week, transaction prices for Dutch type cheese were slightly higher than in previous weeks. The same goes for demand. The traffic in contracts was greater than in the previous weeks.
We can see that Horeca is getting active. Dutch cheese prices above 3.10 EUR/kg EXW. Cagliata prices in Poland above 3.12 – 3.14 EUR/kg EXW. The demand is growing for both Cagliata and Mozzarella, while the stocks are not sufficient.
Butter
The price of cream this week has been adjusted so that the prices of butter in Poland are around 3.88 – 3.90 EUR/kg EXW PL. On the other hand, the interest and demand for butter cubes from Western Europe does not decrease and the prices for lactic butter do not fall below 4.10 EUR/kg EXW. Sellers don't want to give in with prices for Q3. Packaged butter is still in demand in Europe. AMF in the UK and Ireland above 5 EUR/kg EXW.
Liquids
Cream bounced back by the end of a week of decreases. We will see how the situation unfolds in the near future. Milk concentrate gets weaker, which might contribute to the situation in powder department. As mentioned above, there is plenty of SMC at attractive prices. We are after a milk collection peak in Europe. It's interesting how the future will look like regarding the heatwave predicted by weather forecast.
Learn about Titanium Dioxide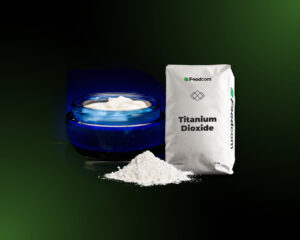 ---
Technical aspects
Titanium Dioxide occurs naturally in many minerals. For industrial purposes, it is mined and then crushed, ground or refined, depending on its intended use. Titanium Dioxide is a white, water-insoluble solid that comes in the form of a white powder.
---
Application
Titanium Dioxide is used in a wide variety of products: paints and varnishes, orthodontic composites, dietary supplements, and cosmetics (in sunscreen lotions, day creams, foundations and lip balms). Titanium Dioxide protects cosmetics from oxidation and loss of their protective properties when exposed to the sun. It does not leave white spots and is safe for use on sensitive skin. Titanium Dioxide is also used in products that require white color or brightening as a white pigment.