Summary
Table of contents
This is our summary of the week 15 on the European dairy market divided into 4 main categories.


Powders

Producers started to offer SMP in the area of 2.52 – 2.54 EUR/kg EXW, explaining this with poor availability of goods. Prices for skimmed milk powder are the highest since the beginning of 2020. Buyers will have to revert to buying as their stocks are running out. This will most probably keep pressure on the prices as most producers are already sold out for Q2.

Interest in FCMP is not decreasing. Not nearly as much in the EU, as in export directions. The prices reach 3.25 – 3.30 EUR/kg. Those are also record levels for the last year, and they will probably not drop any time soon, as prices in Oceania are even higher. New contracting might build up the quotations.

The interest of WPC is constantly growing. European producers sold out their quantities at the prices of 6.30 EUR/kg EXW a long time ago. Moreover, they believe in further price building.
Despite the increased production of WPC the price of permeate does not suffer from it and is quite stable.

Cheese

There is a lot of uncertainty on the cheese market. It is mainly caused by lockdowns in many European countries. We have large discrepancies in the prices of Gouda / Edam between the price expectations of buyers (approx. 2.98 – 3.02 EUR/kg DAP) and producers (approx. 3.05 – 3.10 EUR/kg). To maintain export quotas and business relationships, additional milk supply is going into cheese production. This situation took a toll on pricing in Western Europe. Spot transactions turned out to have more elasticity, than long term purchasing.

Butter

Many market players made positional purchases of butter and at the same time end customers have already done their shopping. This temporarily lack of demand resulted in a slight correction on the market. However, at the end of the week, orders from the discount chain increased, which gave the butter producers a little boost. Even though, the prices are now the highest since the beginning of 2021. This will change soon as spring vegetables are growing and then large amounts of cream end up in liquid form, not butter.

Liquids

Last week milk was available across the Europe and prices for skimmed and raw milk slightly diminished. Another cold week slowed down milk intake in some regions. At the beginning of the week, prices of cream dipped, but later on interest grew, and they rebounded as well. We will see if it is a start of a longer trend. SMC faintly lower by ca 50 EUR/MT of dry matter. There are places where it even gets below 2000 EUR/MT. The availability of SWC is stable.
Learn about Collagen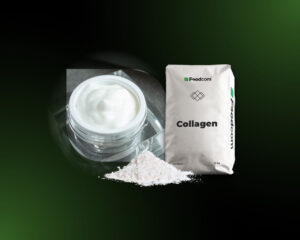 ---
Technical aspects
Collagen has a color ranging from light yellow to ocher. It has a high ability to bind and hold water and a high tensile strength. There are different types of Collagen, both in structure and function. There are up to 28 types of Collagen, but one of the most popular is Hydrolyzed Collagen, which is chemically or enzymatically processed. It is very soluble and well absorbed by the human body. The main structural unit of Collagen is tropocollagen. It consists of three polypeptide chains, each chain consisting of more than a thousand amino acids. Collagen has many useful properties: it maintains the proper structure of tissues and human organs, is involved in blood clotting and metabolic processes.
---
Application
Collagen strengthens the protective properties of the skin against moisture loss and harmful external influences. Therefore, it is often used in cosmetics such as face creams for mature skin. It is recommended for sunburn or vascular skin, as it accelerates the healing process of wounds and scars. Collagen is also included in dermocosmetics with anti-acne properties. It regulates sebaceous glands and smoothes acne scars. Collagen is also found in hair and nail care products. It acts externally on the hair to regenerate it, reduce the risk of hair breakage and increase hydration.
In esthetic medicine, Collagen is mainly used as a filler. When injected under the skin, it smooths wrinkles, increases skin tone and stimulates the production of this protein in the skin. It can also be used for localized fat reduction or to smooth cellulite. Sports medicine uses Collagen injections to restore muscle or tendon injuries.
In addition to cosmetics, it is also used in dentistry, orthopedics and surgery. In the food industry, Collagen is used to improve the elasticity, stability and consistency of products. It is also involved in the production of sausages – edible membranes or sausage casings are made from it.
Sign up for our Newsletter to learn more about our products