Summary
Table of contents
Read in this week's news how raising feed costs around the globe are affecting agriculture. In Peru, a 50% increase in feed prices contributes to growing unemployment and forced slaughtering of cows. Other countries are also facing forage price increases between 15% and 30% due to poor yields, booming demand, and pandemic-related uncertainty.

Tough situation in Peru

The recent report from the Association of Dairy Ranchers of Peru (AGALEP) revealed that the dire economic situation in the country did not spare the dairy sector. Almost 100,000 workers could be left unemployed while small and medium scale milk producers are forced to send around 2,000 cows to the slaughterhouse. The main reason is the escalating cost of cattle maintenance, including a 50% increase in the feed prices with no impact on the income. The other problem they are facing is the market dominance of diary giants which impose the lowest prices.

Rising costs of animal feed around the globe

However, the rising costs of animal feed are present in other markets as well. Last year the US has seen a record increase in the price of corn and soybean since 2012 resulting in herd feed prices over 30% higher. Meanwhile, Brazil faced a 39% increase in the cost of maintaining chickens in 2020, still growing this year. In Vietnam, the prices for animal forage noted a 15-30% increase only in the past five months. There are several reasons for elevated feed prices among which the most notable are poor grain yields all over the world, explosive demand from China for swine feed, the weak position of the dollar, disruptions and higher costs of freight deliveries, and unstable situation with COVID-19 possibly leading to more countries going into lockdown.
Learn about "Beta-Alanine"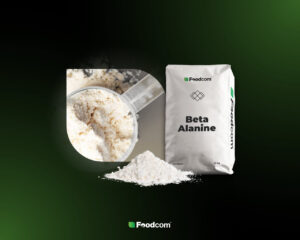 ---
Technical aspects
Beta-Alanine is in the form of an odorless granule of white color. It is soluble in water. The main function of Beta-Alanine is to stimulate the production of carnosine in the muscles, thus counteracting the formation of lactic acid, which is responsible for muscle soreness after exercise. It also reduces the feeling of fatigue and muscle soreness after exercise. Carnosine is an antioxidant and can help eliminate excess metals from the human body.
---
Application
Beta-Alanine is mainly used as a dietary supplement for athletes who specialize in high-intensity physical activities. Dietary supplementation with Beta-Alanine is recommended when natural production of Beta-Alanine is insufficient or when dietary intake is too low.
Beta-Alanine is also useful in pharmacy, as it contributes to the formation of carnosine, which belongs to the group of neurotransmitters and neuromodulators. They enable the proper functioning of the nervous system. Studies have shown that Beta-Alanine has a positive effect on improving cognitive abilities and reducing stress in humans. Carnosine may also help in the treatment of dementia or Alzheimer's disease.