Summary
Table of contents
Discover top stories from the US agricultural market this week! Read about difficult weather conditions for farmers due to drought in the north and extreme cold in Texas. Also, take a look at new investments at Cargill and Ardent Mills and see the drops in milk prices around the states.
1. Cargill injects millions to boost soybean processing
The U.S. based Cargill Inc announced plans to invest around $475 million to meet the fast-growing demand for animal feed and biofuel. The processing facility in Cedar Rapids, Iowa is projected to enhance its capacity by 10% within autumn 2021 while improvements at the plant located in Sydney, Ohio are set to double its crush capacity. Major changes are set to boost production, improve unload capacity, introduce automation changes, and enhance safety measures.
2. Ardent Mills set to purchase chickpea processor Hinrichs
Ardent Mills hopes to diversify its flour portfolio with an intended acquisition of Heinrichs Trading Company – a processor of chickpea with facilities located in Washington and Montana. Ardent Mills sees an opportunity to meet the growing demand for a diversified plant-based offer while Heinrichs could benefit from the possible merger by receiving professional expertise and technical support.
3. Drought looms over US corn farmers
Abnormally dry conditions jeopardize the planting season across the country. The situation is quite serious in Minnesota where around 40% is said to be moderately dry and in Wisconsin where 61% of the state faces abnormal drought, the same conditions are in Michigan over 48% of the state. Severe drought is looming over 69% of North Dakota and in almost all the Colorado state.
4. Further drop in US milk producers number
The Milk Production report released in March upheld the distressing trend regarding the declining number of US milk manufacturers. Over the last 17 years, more than 50% of licensed dairy operations ceased their activity, with a total number of 31,657 in 2020. Adding to the disruptions caused by the 2020 pandemic and the cheese prices violation, farmers will face further complications as feed prices are set to rise in 2021.
5. US Milk prices decrease
The national all milk price was set at $17.50 for January continuing the price drop. Out of the top 24 milk-producing states, 23 noted lower milk prices in January, e.g. Wisconsin noted a 60 cents decrease compared to December and $1.90 less compared to January 2020. In New Mexico, the price was the lowest of all – $15.20 while Florida marked the largest drop of $4 in all milk prices.
6. Cold perspectives for Texas dairy producers
Abnormal drops in temperature challenged the US dairy producers this February. The situation was the most severe in Texas – home to around 14% of all cattle population in the US, where the temperatures fell to a record -18°C. Farmers faced major issues with herd transportation and heating the cattle. Power outages caused milk dumps estimated at $8 million a day.
Learn about Soy Flour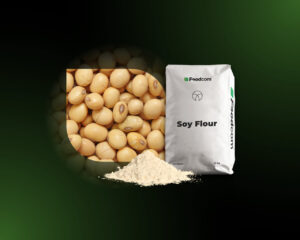 ---
Technical aspects
Soy Flour is rich in high-quality protein, fiber, iron and calcium. The finished soy flour is a fine powder of creamy or light yellow color. The product offered by Foodcom has a protein content of 50-52%. Soybeans used to produce Foodcom Soy Flour are non-genetically modified (so-called non-GMO).
---
Application
Soy Flour and its derivatives are among the most popular ingredients of animal feed, calf milk replacer, poultry feed, fish feed and pet food. It is used to fortify grains, enable smoother digestion, and add nutrient-rich, functional aspects to animal feed mixtures. In the food industry, Soy Flour is used in manufacturing of various snacks, chips, bakery goods, soups, meat, or as a raw material for further processing.