Summary
Table of contents
Growers are facing significant increases in the cost of various inputs, since high inflation and energy cost are influencing every part of the supply chain. We are at the stage where no one is surprised by energy or fertilizer price hikes anymore. The question is not when they will happen, but rather what increases we can expect in the next six months. However, not everything is so simple to estimate, especially in the case of commodity markets affected by various indicators. Looking at the bigger picture, we see better weather conditions in some areas of the EU – significant rainfall has taken place for the first time since the April drought, increasing moisture reserves. Experts wonder how the harvest will turn out,and the big question: whether consumers will buy less food.

In the short term, the question is: how long will the softness in the market last? We see this softness every year inthe June to August period.For End Users: how long will it take to digest the increasing costs of goods? As always, we need to keep an eye on the market because no one can estimate which indicators will be decisive for the 2022/2023 season and for how long. Continue reading to learn about the details.

Potato Protein

Potato protein price, as other proteins on the market, is connected to fuel and energy costs. It is anticipated that there is going to be a shift from edible potato production to processing of potatoes, likely due to high demand for it. This is likely to affect production estimates for the coming season, as supplies for processing could potentially be higher compared to last year, which could mitigate the increase in EU processing potato prices. Preliminary estimates suggest that potato acreage will grow only slightly, if at all, in Europe during the upcoming 2022/2023 season, market participants believe. Land originally reserved for potato crop will likely be replanted with spring cereals, grains, corn, or sunflowers. Most potato growers have reached out to processors, requesting higher prices or a more flexible arrangement.North-Western European Potato Growers (NEPG) notes that all parties in the potato chain are facing higher production costs, as a dry and hot spring, and summer further add complexity to the situation for all parts of the potato industry.

Vital Wheat Gluten

Increase in inquiries about Vital Wheat Gluten, particularly caused by a strong demand in Southern Europe regions, as the Northern Europe market tends to stay price-sensitive. Visible are strong requests for availability of high-quality product, as bakeries must make up for protein levels in wheat. Much of the wheat protein went to texturized production, which is widely used as a source of protein in analogues of meats.

Hydrolyzed Wheat Gluten

Market participants observe the situation of Hydrolyzed Wheat Gluten with unwavering devotion, as manufacturers of milk replacers are still looking for the great volumes of this commodity. It is far too early to project how the situation will evolve. Some Milk replacers struggle with current price levels of HWG and look for answers to a difficult situation.

Dextrose

The price of dextrose remained relatively stable compared to previous weeks. There was no noticeable price change in the food grade product, like other raw materials, the pricing for dextrose is dictated by changes in commodity prices. However, if we look at the results in year-on-year comparison, we can see that the price of dextrose has almost tripled compared to the same time last year.

Corn Gluten Meal

With Corn Gluten Meal pricing so high, SPC has become an alternative. With limited corn supply, some manufacturers transitioned demand over SPC, as soy can grow in many more regions compared to corn. A prominent Corn and Soy supplier says this is the first time in his lifetime that he has seen SPC priced lower than Corn Gluten Meal.

Starches

We do observe a bigger demand for starches, especially food grade products Corn Starch, and Wheat Starch. As for modified corn starch, many manufacturers are successfully using xanthan gum as a substitute in gluten-free baked goods. It is a strong binder that replaces the properties of gluten.

Soy Flour

The holiday period is upon us, so the sales are comparatively slower. People are in search of alternatives for Soy Flour, as a minor decrease in the commodity could be observed in the last two weeks. This is even with many harvest plantations all over the world. Soy Protein Concentrate 60% price is surprisingly much higher than Corn Gluten Meal, when it comes to trade rates.
Learn about Glycine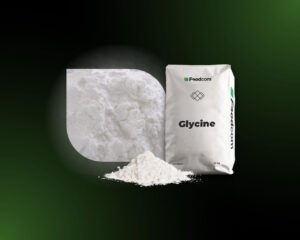 ---
Technical aspects
Glycine is mildly sweet and counteracts the saccharine aftertaste. Glycine is a component of some solutions used in the SDS-PAGE method of protein analysis. It serves as a buffering agent that maintains pH and prevents damage to the sample during electrophoresis.
Glycine is sensitive to antibiotics that target folate, and blood glycine levels drop within a minute of an antibiotic injection. Some antibiotics can degrade more than 90% of Glycine within minutes of administration.
---
Application
In medicine, Glycine is used in intravenous injection, however, mainly applying the higher-quality grade of glycine – pharmaceutical grade.
Technical grade Glycine is used as a metal complexing and finishing agent, for instance.
Glycine is also commonly used in infusions and in food chemistry as a flavoring or preservative.
Moreover, it is added to animal feed in the form of copper (II) glycinate.