Summary
Table of contents
This is our summary of the week 33 on the European dairy market divided into 4 main categories.



Powders

Producers increase their prices for SMP due to several reasons. The costs of drying are higher, there is a smaller amount of raw material and thus the price is building up. Sales by producers oscillate at the level of 2.53-2.57 EUR/kg EXW DE/NL/FR/PL depending on the date of collection. Anyway, many of them claim that they are sold out. We are still waiting for the outcome of few major international tenders which will have an impact on the price.

FCMP stable at 3.10-3.12 EUR/kg EXW UK/IE/DE. The SWP price is also slowly recovering. The price is around 960-975 EUR/MT DAP NL. The demand is picking up. Behavior of buyers from export destinations, mainly from Asia, will have an influence on the price. The production is directed to WPC.

Cheese

Dutch cheeses are offered at 3.12-3.17 EUR/kg EXW DE/NL with an upward trend. During the last two weeks, prices jumped by 15 or even 20 cents. It caused an immediate increase in demand. Buyers that had not covered their needs were forced to accept the situation. It's very likely that the situation will not change anytime soon. This translated into a sharp increase in Cagliata's prices and thus decreased availability. Buyers had to adapt quickly as the bids are now at the level of 3.25-3.30 EUR/kg. The situation with Cheddar is also tight in the Western Europe. Prices at held at the level of 3.60 EUR/kg. Stocks of cheese for melting are limited.

Butter

Cream builds the price and reaches the level of 5.05-5.07 EUR/kg EXW PL/DE. As a result, the production of butter is currently around 4.10-4.15 EUR/kg EXW PL. However, there are many offers for frozen butter around 3.95-4.00 EUR/kg EXW DE/NL/PL. Along with the butter, the number of inquiries on AMF increased, with sales reaching 5.10 EUR/kg DAP.

Liquids

Cream was higher at the beginning of the last week. Later on slightly lower prices could be found. SMC is at high levels, as it was in previous weeks. The availability of raw material is still much lower than year before, which influences very high prices of whole and skimmed milk. We will see what future will hold.
Learn about Sodium Chloride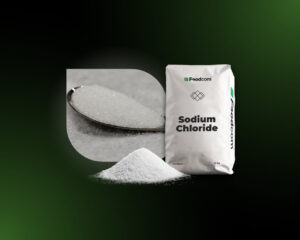 ---
Technical aspects
Sodium Chloride occurs in the form of a fine crystalline white powder, with a characteristic salty odor and taste. It exhibits strong hygroscopic properties. The product offered by Foodcom is not genetically modified. Foodcom also offers food-grade brewed salt without anti-caking agent.
---
Application
Sodium Chloride is used as a food additive that imparts a salty taste to foods, and it's often added as a food preservative. Application of Sodium Chloride is crucial in the glass and tanning industries. Pure Sodium Chloride is used for electrolyte disorders. It can also be found in products applied for topical eye wash, throat and nasal rinses.