Summary
Table of contents
This is our summary of the week 21 on the European dairy market divided into 4 main categories.
Powders
Another tender for ONIL Algeria contributed to the price increase once again. 
The number of inquires for SMP is very satisfying. Prices on the spot are around 2.60-2.63 EUR/kg EXW. The availability for spot purchasing is low. For the following months we are approaching the level of 2.70 EUR/kg EXW, although this has not yet been achieved. Prices of FCMP went slightly up. Most supply is utilised within the EU. There is not too much pressure, so the quotations are not expected to change dramatically.
The interest in WPC is not decreasing. 
The producers are in a very comfortable situation – most of the goods are sold out for the next months at quite high prices. Will we see 8 EUR/kg EXW soon? It's very likely.
Cheese
We are facing quite a peaceful period when it comes to cheese trading. 
After a few weeks of hope, the number of inquires for cheese is not as high as it was predicted to be during loosening of restrictions. As usual, the situation of producers is saved by retail chains. End users are not eager to accept high Cagliata prices offered by producers.
Butter
The price of butter in PL from fresh cream slightly exceeded the level of 4 EUR/kg EXW. 
German butter is offered above 4.05 EUR/kg EXW DE. The tender for German discounters finished at 4.10 EUR, which is 16 cents higher than previously. In the Netherlands the offers are already at 4.10 EUR/kg EXW and the demand is not increasing. There are signals of revival and increased interest from food wholesalers and Horeca suppliers in Western Europe.
Liquids
Cream and SMC went up last week.
In some European countries we are still before the peak of milk collection. It is very likely that the influx will be higher in upcoming weeks. Prices of raw and skimmed milk are steadily elevated.
Learn about Unsalted Sweet Cream Butter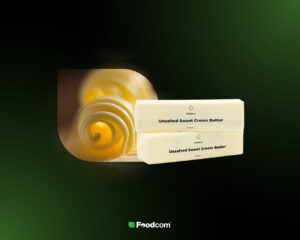 ---
Technical aspects
Unsalted Sweet Cream Butter is a thick, smooth paste with a yellow color and a typical aroma. It is made by whipping fresh or fermented cream or milk in a special machine to break the membranes of the fat globules, separating the butterfat from the buttermilk.
Unsalted Sweet Cream Butter contains at least 82% milk fat (not more than 16% water and 2% skimmed milk powder). This product is also rich in vitamins A, D and K. In addition, Unsalted Sweet Cream Butter is characterized by a uniform consistency, so it affects the texture of products. It also has a direct effect on the taste of other products.
---
Application
Unsalted Sweet Cream Butter has many functional properties such as a great texture and rich taste that are very useful for the baking and confectionery industry. It allows the good development of high-quality pastry.
Moreover, it is perfect for the laminated process and high-pressure conditions during production. Thus, it can be a great ingredient in the production of pastries, biscuits, croissants, and other baked products. Unsalted Sweet Cream Butter is also homogeneous and cohesive, making it a great addition to soups, meats, and ready-cooked meals.