What else? 36th Edition of Foodcom PLANT-BASED Newsletter
25 May 2023
Reading time: 7 minut

Publication date
25 May 2023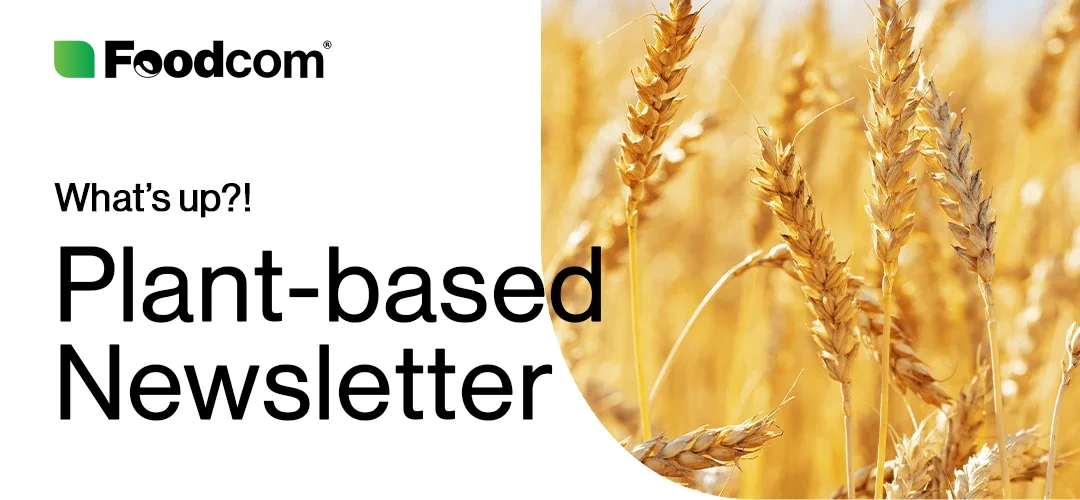 Europe
Bulgaria has increased its production of sunflower oil
This was made possible by the purchase of Ukrainian seed at attractive prices. As a result, oil production increased to 250-300 thousand tons, while domestic demand was about 150 thousand tons. The number of oil extraction plants in Bulgaria has increased from 4 to 11 in recent years. All these favorable circumstances resulted in the producers not only selling sufficient quantities on the domestic market, but also increasing exports.
The fruit harvest in northern Italy ruined by floods
As a result of torrential rains, more than 20 rivers burst their banks in the Italian region of Emilia-Romagna, causing widespread flooding. Thousands of hectares of farmland have been flooded. It is estimated that up to 15 million fruit trees and 400,000 tons of wheat have been destroyed. Initial estimates put the damage at around 1.5 billion euros. According to experts, it will take years for farmers to recover from the losses suffered.
Ukraine's corn and wheat exports will decline
Current forecasts clearly indicate that Ukraine's corn and wheat exports will decline in the 2023-24 marketing year. The reason, of course, is the ongoing Russian aggression. However, the authors of the analysis emphasize that the projected lower harvests and associated lower exports are due not only to reduced acreage, but also to the fact that Ukraine had record-high grain stocks in the previous year with which the data are compared.
The Americas
A (near) record year for Canada
The 2023-24 marketing year is forecast to be the second-largest wheat harvest ever in Canada. Production is expected to be about 35.8 million tons, which would be second only to the 2013-14 production of 37.5 million tons and 6% above the estimated 2022-23 production of 33.8 million tons. The main reason for these optimistic assumptions is the record-high acreage this season.
Brazil wins against the United States
Brazilian corn production and exports have long been on the rise. Both the area planted and the level of technological progress in agriculture are increasing. At the same time, corn production in the United States has been stagnant for years. Consequently, the U.S. must swallow its pride and acknowledge Brazil's superiority (at least in this regard).
Soybean cultivation is destroying native forests in Argentina
Argentine authorities are facing a serious problem of illegal deforestation to grow soybeans and raise livestock. Although a law regulating deforestation was introduced in 2007, more than half of the deforestation currently taking place is illegal. It may prove extremely difficult to reverse this trend, as some farmers simply view deforestation as a cost of doing business due to low fines in the past.
Asia & Oceania
Indonesia is calling on palm oil importers to change their policies
Recently, many palm oil importers, including countries in the European Union, have imposed import bans on goods that have had forests cut down to produce them. Palm oil producers, among others, have been hit hard by the new regulations. Indonesia, the world's largest exporter of the commodity, recently called for a change in approach. The new idea is to pay additional premiums for sustainably produced oil instead of boycotting conventionally produced oil. The question of how far importers will be willing to implement such a change remains open.
Australia is preparing for a dry and warm winter
According to the latest forecasts, the likelihood of an El Niño weather phenomenon this year could be double that of last season. If it does occur and brings dry and warm weather, it will reverse the trend of the last three years, when La Niña occurred and brought cold weather and record rainfall that even led to flooding. That does not mean there will not be extreme weather events, but at this point it's hard to predict anything with certainty.
Pakistan's wheat imports are on the rise
In recent months, Pakistan has seen a significant increase in both prices and quantities of imported wheat. One of the main reasons for the drastic price increases is Russian aggression against Ukraine. The involvement of two major wheat exporters in the armed conflict has naturally affected prices on world markets. Despite the high prices, Pakistan was forced to increase its wheat imports due to a shortage of domestically produced wheat caused mainly by flash floods that devastated large parts of the country.