What else? 35th Edition of Foodcom PLANT-BASED Newsletter
11 May 2023
Reading time: 5 minut

Publication date
11 May 2023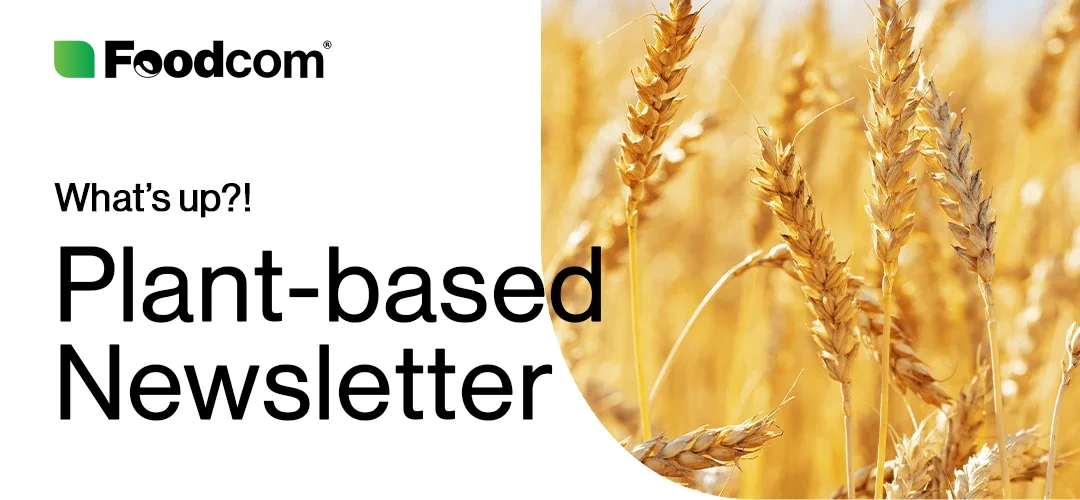 Europe
The European Commission has decided to restrict imports of Ukrainian wheat, corn, rapeseed and sunflower
The regulations affect Poland, Hungary, Romania, Slovakia and Bulgaria. They will be in effect until June 5. As a result of the European Commission's regulations, Poland, Hungary, Slovakia and Bulgaria have lifted their unilateral import bans, introduced because of the need to protect their farmers. Romania had not previously banned imports from Ukraine.
Cucumbers and olive oil are king in the UK
However, not in the way we would like. And certainly not in the way consumers would like. Cucumbers and olive oil are among the products that saw the largest year-over-year percentage price increases in March. The price of cucumbers rose 52% in the 12 months ending in March, while olive oil was up 49%. It was followed (not very honorably) by Swiss-type cheese, up 44%, and cheddar, up 42%.
Moldova will not ban the import of agricultural products from Ukraine
The country has decided not to join the restrictions imposed in Europe on the import of grain and oil seeds from Ukraine. Government officials are convinced that the introduction of restrictions would not have a positive impact – neither would Moldovan farmers' profits increase, nor would their production costs decrease. Moreover, there would be a risk that restrictions would be introduced on imports of Moldovan products into Ukraine.
The Americas
Argentina is struggling with the effects of drought
The drought in Argentina has been one of the most discussed topics in the plant-based sector in recent months. Since Argentina is the world's leading exporter of processed soybeans, as well as a major supplier of corn and wheat, the impact of the element could be severe for literally everyone. This season's soybean and corn harvests could be half of what they were in the previous cycle. Attempts are being made to counteract or mitigate the effects. The Argentine government has announced the approval of a $394 million loan for irrigation projects.
Farmers from the American plains are bracing for a historically poor winter wheat crop
After a three-year drought, farmers are expecting the worst. Some predict they will have to abandon more than 80% of their wheat acres and that the crop will be minimal. Last week's rains came too late to provide critical help to crops in western Kansas, Oklahoma and Texas. In addition, the situation was exacerbated by high winds that sandblasted dry fields in many areas. The poor harvest for one of the world's largest wheat exporters adds to concerns about global food security.
Venezuela's food crisis could get worse
A fungus that infects bananas and causes them to wither is spreading dynamically. It is transmitted through infected soil. In a country that recorded inflation of 471% in April and where nearly 23% of citizens suffer from hunger, bananas have been an excellent, relatively cheap source of energy, carbohydrates and sugar and, of course, profits for farmers. Losing part of the crop to a rampant fungus could have disastrous consequences. Experts do not have good news: The only way to effectively combat the fungus is to switch to crops that are resistant to it.
Asia & Oceania
China has approved the safety of its first genetically modified crop
The soybean, developed by private company Shandong Shunfeng Biotechnology Co, Ltd, has two modified genes that increase levels of healthy fat, oleic acid. This is not a modification in which foreign genes are added to the organism, but only existing genes are changed, which certainly facilitated the safety certification. The certification is valid for five years. Does the use of a different technology mean that it is a genetic modification of a genetic modification?
Record low green kiwi harvest in New Zealand
The four horsemen of the apocalypse: a warm winter, a late frost last October, cyclones in January and February, and hail in April this year have resulted in severe crop losses in the country. As a result, the upcoming kiwi crop will be the lowest in 20 years, according to current forecasts. As a result, some growers will not make money as they have suffered partial or even total crop failures.
High rice production in Asia
All indications are that Asian countries will have high rice production this year. Higher prices are encouraging farmers to increase their cultivated areas and use more fertilizer. This is excellent news, following last year's first decline in seven years and concerns about the size of next season's supply. High crop yields are expected in India, Thailand and Pakistan, among other countries. Good news is always good news (innovative observation, right?)!