What else? 32nd Edition of Foodcom ADDITIVES Newsletter
18 May 2023
Reading time: 5 minut

Publication date
18 May 2023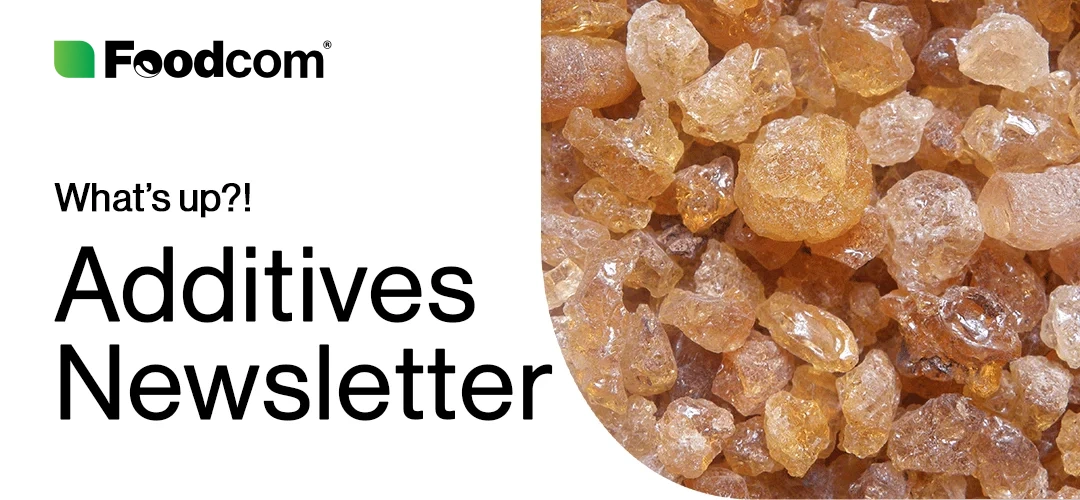 Europe
The UK will invest heavily in developing sustainable fertilizers
The UK government has announced that it will invest £3 million in the Global Fertilizer Challenge to develop more sustainable fertilizers. The project will fund the Efficient Fertilizer Consortium, which will conduct research to develop efficient, environmentally friendly and cost-effective fertilizers as well as management practices.
Lower gas prices in Europe affect fertilizer prices
Recently, gas prices in Europe have fallen due to large inventories, increased LNG supply, and warm weather. As a result, nitrogen fertilizer prices are falling, which in turn could impact crop costs. To what extent will gas prices impact inflation and mitigate the global food crisis? Time will tell.
Norway cooperates with Egypt on methanol production
Scatec, a Norwegian company that manufactures renewable energy systems, has teamed up with Egypt's Alexandria National Refining and Petrochemicals Company and the Egyptian Bioethanol Company to launch the country's first green methanol production project at the port of Damietta. The investment amounts to $450 million. The project aims to produce 40,000 tons of green methanol per year, with the possibility of increasing to 200,000 tons per year to promote sustainable production practices.
The Americas
The Canadian fertilizer producer has lowered its profit forecast
Nutrien has lowered its 2023 profit forecast due to the current situation in the fertilizer market. Although fertilizer prices have declined from last year's record levels, this has not impacted demand as much as manufacturers had expected. Farmers are holding back on purchases for now anticipating further price reductions. At the same time, the company expects demand for potash to increase in the second half of 2023 as inventories are depleted and prices move closer to growers' expectations.
Brazil is changing its fuel policy
Brazil's state oil company Petrobras has adopted a new pricing policy for gasoline and diesel. The goal of this change is to reduce fuel costs for drivers. The new pricing system abolishes the so-called fuel-import parity, which more closely aligned gas station prices with the oil market and exchange rates. As a result, prices for gasoline and diesel will fall by about 13%, while the price of liquefied petroleum gas will fall by more than 21%.
The world's largest ethanol jet fuel plant has yet to be built
Honeywell has partnered with Summit Agricultural, an Iowa-based company. The goal of the collaboration is to build the world's largest ethanol-based jet fuel plant. The project is expected to cost about $1 billion, and the plant is scheduled to be operational in 2025. Annually, it is expected to produce enough SAF (sustainable aviation fuel) to power thousands of flights per year. In such cases, the sky is literally the limit!
Asia & Oceania
Perdaman Chemicals & Fertilisers has started construction of a urea plant in Australia
The new plant, to be built in the Pilbara region of Western Australia, will provide Incitec Pivot Fertilisers with a long-term supply of Australian urea thanks to a 20-year partnership with PCF. The plant will use natural gas from Western Australia to produce urea fertilizer. The investment will lead to the creation of a number of highly skilled job openings and guarantee a continuous supply of fertilizer to farmers. The plant is scheduled to start production in mid-2027.
The startup uses ChatGPT to optimize insect breeding
Entoverse, based in Singapore, is a startup that develops artificial intelligence-based solutions for the insect farming sector. The company's products focus on improving the efficiency of insect egg production and larval rearing for maximum protein mass, among others. The company's next step is expected to be the launch of a solution called FarmGPT, which is designed to take automation to the next level.
Japfa Comfeed opens a new plant in Vietnam
A new animal feed plant and slaughterhouse of Japfa Comfeed Vietnam was inaugurated in Minh Hưng Sikico Industrial Park in Bình Phước Province. Japfa Vietnam's animal feed factory has a capacity of 240,000 tons per year in phase 1. In phase 2, the factory's capacity will increase to 480,000 tons per year. The new plant is equipped with, among other things, a cooling system that preserves important vitamins and spices at 20-25 degrees Celsius. It is expected that the commissioning of the factory will be an important step for both the company and customers in the region.