What else? 177th Edition of Foodcom DAIRY Newsletter
23 May 2023
Reading time: 5 minut

Publication date
23 May 2023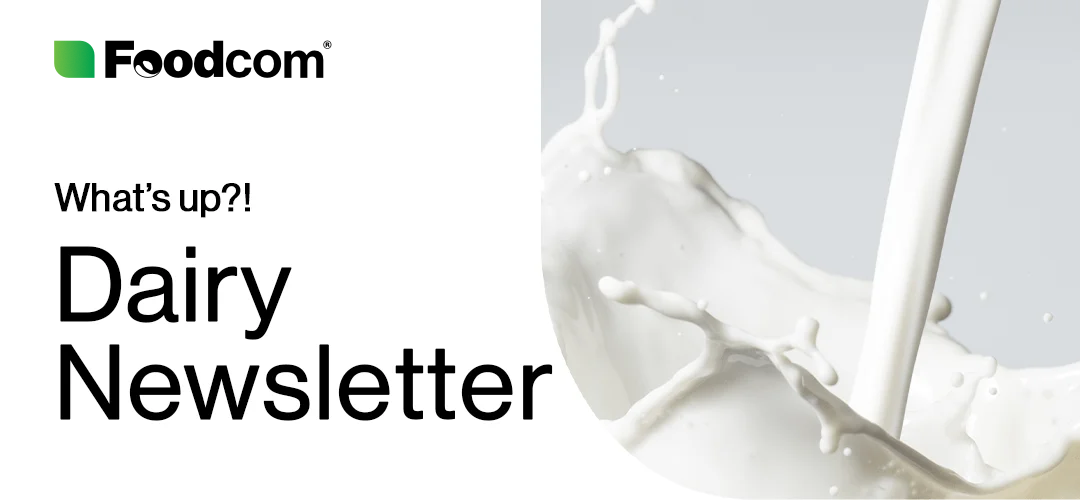 Europe
Irish dairy cooperatives have more influence on milk prices than they think
The Irish Creamery Milk Suppliers' Association says dairy cooperatives that cite "downward price pressure" as justification for milk price cuts for farmers may themselves be adding to that pressure. While the market is not yet at a point where cooperatives' decisions exacerbate the difficult situation, it is said that they need to be aware of their obligation not to add to the pressure. According to the organizations, the potential impact will hit farmers the hardest.
Farmers once again took to the streets
This time, Serbian farmers protested against the unsatisfactory prices they receive for their milk. The protests followed meetings between representatives of the country's authorities and agricultural associations, where farmers outlined their problems and challenges, including those related to milk prices. The outcome of the talks did not satisfy the farmers, which led to an escalation and protests in the streets.
Difficult times for Northern Ireland farmers
It has recently been reported that dairy farmers in Northern Ireland need to prepare for further reductions in milk prices. Some processors have already officially announced such plans, and experts expect others to follow suit. Farmers' associations report that an increasing number of their members are in a difficult situation and that external financial support may soon be needed.
The Americas
Land O'Lakes pays out $5 million for sustainable practices
The U.S.-based dairy-focused agricultural cooperative announced that its sustainable agriculture division paid out $5.1 million to U.S. farmers in 2022 for capturing and storing 262,000 metric tons of carbon through sustainable practices. The previous year's disbursements were about $4 million.
The United States has reported a case of unusual mad cow disease
USDA has announced an unusual case of bovine spongiform encephalopathy (BSE), commonly known as mad cow disease. According to the announcement, the finding of an atypical case does not change the negligible risk status for the United States and should not cause trade problems. It is hoped that this will remain the case.
A Canadian company introduces a new bio-protection solution for dairy products
Lallemand has unveiled its latest project: Lalcult Protect MC1, a new bio-protection solution. According to the developers, it helps extend shelf life by preventing mold and yeast growth. It can be used in a variety of dairy products, including yogurt-type products, cream, fresh cheese, ripened cheese, sliced and grated cheese, and plant-based analogs.
Asia & Oceania
New Zealand's dairy cattle population is in decline
A recent survey of agricultural production indicated that the number of dairy cows fell by about 1% during the year. The total number of dairy cows in June 2022 was 6.1 million head, down 8% from a record 2014. Nine years ago, the number of dairy cows was an impressive 6.7 million.
Australian cooperative lays off workers due to flooding
Norco, a cooperative based in Lismore in northeastern New South Wales, suffered losses of $142 million during floods a few months ago. The company received a grant from the Australian government and continued to pay workers for 30 weeks, but had to lay them off and close the plant after the funding ran out. No fewer than 170 workers had to go home. The company hopes to reverse this tragic situation and resume operations, but for now nothing is certain.
Free trade agreement with the UK crucial for New Zealand's dairy industry
According to some experts, New Zealand exporters will have a level playing field with European competitors in the U.K. market for all dairy exports starting Jan. 1, 2028. On May 31, tariffs will be eliminated on a range of dairy products, including liquid milk and cream, yogurt, buttermilk powder and modified milk for infants. Tariffs on other products will be phased out.