What else? 175th Edition of Foodcom DAIRY Newsletter
09 May 2023
Reading time: 6 minut

Publication date
09 May 2023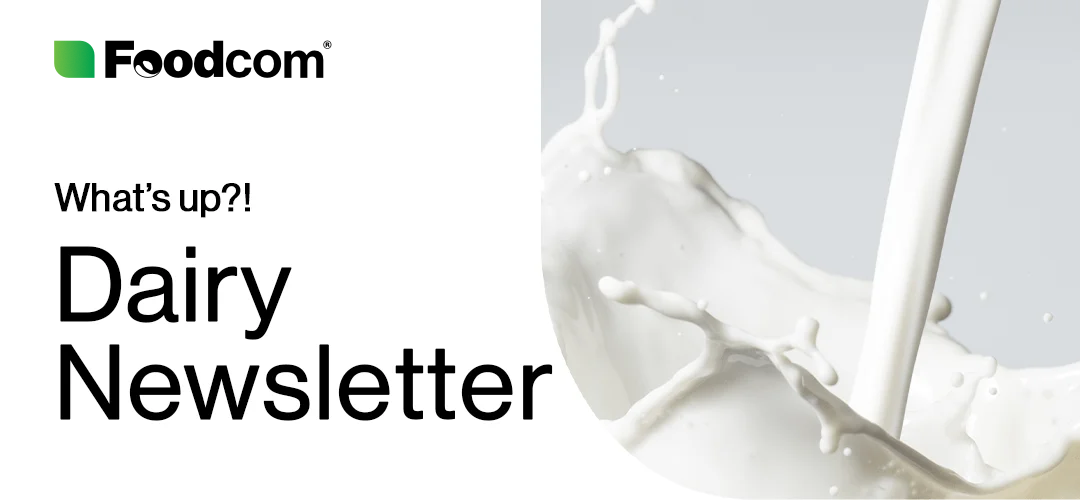 Europe
Difficult times for organic dairy products in Belgium
Demand for all organic dairy products is down, reflected in less interest in organic milk itself. Biomilk, a cooperative of organic dairy farmers in Flanders and Wallonia, now sells half of its milk on the conventional market and is no longer accepting new members. This is the company's strategy to protect existing members from falling milk prices. Biomilk can nevertheless consider itself lucky because some companies can no longer sell their milk at all.
Cheese tops the list of fastest rising products in the UK
Inflation remains one of the greatest challenges for consumers and businesses. According to the latest data, cheese was among the most expensive food products in the UK in March. Swiss cheese prices rose 44% over the year, while cheddar was up 42%. Only cucumbers, which became 52% more expensive, and olive oil, which became 49% more expensive, saw even larger price increases. These are definitely not the records that cheese should reach, especially according to consumers.
Milk processors in the UK are cutting farmgate milk prices
Freshways and Arla have announced significant reductions in milk prices at the farm level. The reason given for the decision was an increase in global milk supply combined with lower domestic demand, resulting in downward pressure on prices. Recent retail price cuts initiated by retail chains also played an important role. All that remains (especially for farmers) is to keep a close eye on the changing market situation.
The Americas
FDA has extended the comment period for plant-based beverages
FDA recently reopened the public comment period for plant-based milk labeling at the request of several stakeholders. If the commented draft is finalized, plant-based beverages can be labeled as milk even though they are not dairy products and have different nutritional values than milk. This inspired a certain popular social media campaign…
The (next) technological revolution in dairy herd management?
Vas's Dairy Comp recently released two new technology solutions designed to help dairy farmers manage their herds, animal health and costs. As the developers argue, the new tools replace numerous spreadsheets and allow live tracking of changes in the herd and individual cows' bodies, allowing farmers to optimize costs, monitor animal health and even predict future health events. How did people get by in the past without all this technology?
Wood Milk – new competition for dairy products?
An ad campaign for a new brand co-founded by actress Aubrey Plaza, Wood Milk, is attracting a lot of attention on social media. The ads are, of course, a satire of plant-based dairy products and were inspired by the iconic "Got Milk?" campaign. The creators argue that their goal is to draw consumers' attention to the nutritional value of the beverages they consume, but many people were outraged by the form and message.
Asia & Oceania
Australian region without a drop of milk
An unusual situation is occurring in the Far North Queensland region: there is a shortage of milk and the milk shelves in the stores are empty. This is interesting and acute because the region once had hundreds of dairy farms, and as recently as 2000, the local factory was supplied by 185 producers. Now their number has dropped to 45, and the reason cited is the deregulation of the dairy industry. Much of the region's milk needs are currently met by imports, but recently demand has outstripped supply.
Fonterra has opened a new innovation center in China
The facility, which opened in Shenzhen, southern China, will focus on the beverage category. The center was set up as part of the company's strategy to present New Zealand milk to Chinese customers in an innovative way. Work at the application center will focus on testing and developing new products. These will be tailored to the needs and expectations of Chinese consumers.
Russian milk is a threat to producers in Kazakhstan
Recently, it has been reported that cheap Russian milk is appearing in Kazakhstan, which is clearly a threat to the interests of local producers. Experts point out that the only appropriate response is stricter border control. In their view, the uncontrollable consequences of flooding the country with cheap Russian milk are difficult to foresee, especially since the situation is likely to continue for a long time considering the weakening ruble.