What else? 172nd Edition of Foodcom DAIRY Newsletter
04 April 2023
Reading time: 5 minut

Publication date
04 April 2023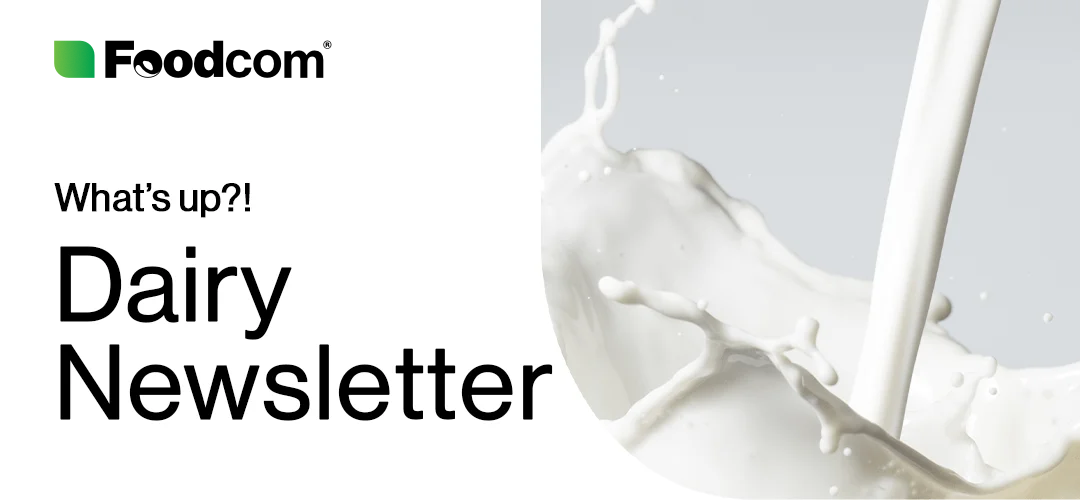 Europe
Ukraine has established special milk collection centers
In the face of Russian aggression, Ukrainian authorities offer farmers the opportunity to sell milk through special collection points. Legislation has been adapted accordingly. According to experts, one of the main challenges in this regard is to ensure compliance with the requirements for the safety and quality of milk and dairy products approved by a decree of the Ministry of Agrarian Policy.
A two-year project to reduce carbon emissions from cows has been completed
Dairy farmers from Cornwall and Brittany worked together on low-carbon practices. The Agriculture bas Carbone for Dairy farms (ABCD) project looked at practices such as changes in cow diet, biodiverse grassland and agroforestry. According to the researchers, the first aspect has the potential to reduce agricultural carbon emissions by up to 10%. So what, now cows are switching to a diet?
Austrian dairy farmers outraged by WWF recommendations
Austrian dairy processors disagree with the organization's agitation to restrict milk and dairy products in people's diets. Opponents of such ideas stress that existing eating habits have developed over decades. Moreover, in their view, the Austrian dairy industry offers products that meet the highest standards and the most demanding expectations. In addition, domestic dairy farming shapes the Austrian landscape, promotes biodiversity through a high proportion of grassland, and protects alpine pastures. This is an interesting and rather surprising conflict, it must be said.
The Americas
Michigan State University Extension supports Ukrainian farmers during the war
The institution is offering advice to Ukrainian farmers on how to increase milk production through a virtual presentation. The expert knowledge is intended to help increase Ukrainian farmers' production during these difficult times. During the ongoing hostilities, access to many resources such as feed, fertilizers, fuel and labor is severely limited. Once again, knowledge is proving to be one of the most powerful and important currencies.
Dumping of milk in Canada sparks strong calls for change
The purchase of milk in Canada is based on a quota system that has led to the widespread practice of dumping surplus raw material for at least 50 years. How much? No one knows at this time because attempts to monitor the scale of this phenomenon are only now being made. What is certain, however, is that it is common. This, in turn, is causing producers and other activists concerned with this issue to urge the government to change this system. This is by far the worst aspect of the current quota system. However, it is difficult to speak of any real chance of change in the near future.
Nestlé and Cargill are joining forces to support sustainable grazing practices
The companies have begun a collaboration with the National Fish and Wildlife Foundation to implement voluntary conservation practices that help combat climate change. Together, they are expected to contribute up to $15 million to the fund. The partnership will bring together private landowners and local conservation organizations to support voluntary land management practices, improve water management and restore wildlife habitat. Quite an interesting crossover episode, isn't it?
Asia & Oceania
Dairy farmers in New Zealand need to plan their budgets carefully
Forecasts for farm milk prices next season range from $7/kg to $10/kg. Many experts also make predictions between these two values (and of course, each of them is convinced that he is the one who is right…). No one doubts that these are significant differences, especially considering that the season starts in just two months. This time, farmers not only do not know how many liters of milk each cow will provide, but also how much money they will receive for each liter. An unenviable situation.
A major Australian dairy company is recalling products because it fears contamination
Some Fleurieu Milk Company products have disappeared from Australian supermarket shelves because of a risk of microbial contamination. According to the latest information, it is said to be E.coli bacteria. Those who managed to buy the products are expected to receive a full refund. Quite surprising, since E.coli is more what we would expect to find in sodas, right? (Actually, no).
New Zealand's indebted dairy farmers are in an extremely difficult position
The price of milk is generally down, and as if that were not enough, it is difficult to predict what will happen to it in the coming months. In addition, production costs, especially feed prices, are becoming extremely high. It is difficult to predict any other scenario than that at least some of the farms in the most difficult situation will not survive the current conditions.