What else? 171st Edition of Foodcom DAIRY Newsletter
28 March 2023
Reading time: 5 minut

Publication date
28 March 2023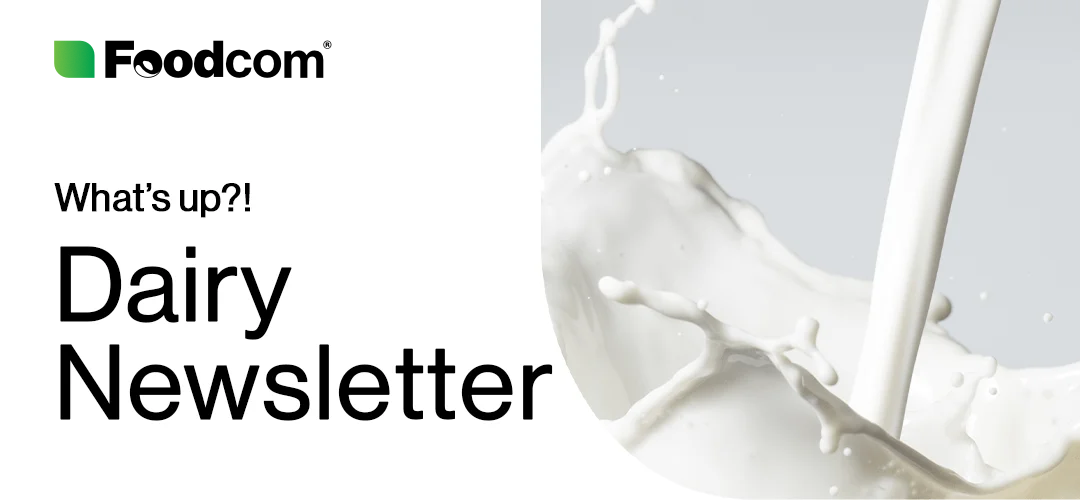 Europe
Danone relies on raw materials from Asia
Rising production costs, linked in part to the pandemic and war in Ukraine, have prompted Danone to import more raw materials from outside Europe. These are mainly whey – an important ingredient in the infants and the elderly nutrition – and aluminum, which is used for packaging. The industry as a whole is seeking to reduce expenses and production costs, but the decision could create significant tension between Danone and its European suppliers. Some maliciously point out that French farmers have had no reason to protest at all so far…
Moldova's milk production is insufficient
The production of dairy products in the country is decreasing year by year. Moldovan producers cover only 66% of the country's milk needs. For a long time, the remaining volumes were imported from Russia, Belarus and Ukraine, but the ongoing war has significantly complicated this situation. As of 2022, the price of milk in Moldova has increased by 23%, and that of butter by as much as 40%. The Moldovan dairy industry faces months of challenges, there is no doubt about that.
The number of cows and dairy farms in Spain are declining. What does that say about the state of the dairy industry?
The number of dairy cows in Spain decreased by 3.2% in March 2023 compared to the same month last year. In addition, another 90 dairy farms were closed. Experts have no doubt that these developments highlight the state of the Spanish dairy industry. Producers often prefer to sell animals for meat rather than continue production at a loss. Hardly surprising…
The Americas
California's dairy farmers are dealing with flooding
Recent storms have submerged large portions of Tulare County. It became necessary to evacuate nearly 100 000 cows. Many people familiar with the dairy industry can probably imagine how challenging it will be to get the cows back to a milking schedule. It gets worse because the water also destroyed large amounts of feed grain and silage, making the immediate future of California's dairy sector even more uncertain.
Exports of dairy products from Uruguay are on the rise
A steady increase in Uruguayan dairy exports has been observed for some time. In February, they increased by 14% compared to the same month last year. As for all dairy products combined, the main destinations were Brazil (33% of purchases), Algeria (21%), China (6%), Russia (4%) and Mexico (3%). So what, is Uruguay the famous land of milk and honey?
Tillamook is growing rapidly thanks to the love of ice cream
The Oregon-based company has acquired the former Prairie Farms plant and plans to expand into the Midwest and East. The company has announced plans to open an ice cream plant in Decatur in late 2024. The Decatur facility will be the Tillamook County Creamery Association's first manufacturing facility outside of Oregon, and also the only one dedicated solely to ice cream production. Definitely good news for all sweet tooths and ice cream lovers.
Asia & Oceania
Many companies are betting on cheese with China in mind, even though consumption there is lower than in European countries
The Chinese cheese market has seen significant growth recently, which has come as a surprise to many. As a result, many companies have begun to place more emphasis on cheese production, expecting the current trend to continue. Although the per-person consumption of cheese in China is lower than in many other countries, it is growing at a dizzying pace. Not cheesy news for cheese producers, right?
Australia is a world pioneer in dairy guidelines
Agriculture Victoria and Dairy Australia have published a 245-page document titled "National Guidelines for Dairy Feedpads and Contained Housing." It contains, as the name suggests, guidelines for dairy farmers specific to Australian conditions. Twenty-one experts from around the world were involved in the consultations that preceded the creation of the publication. According to the authors, it is an invaluable resource for all dairy farmers and others involved in the dairy industry. After all, there can never be enough knowledge, right?
Farmers know what the biggest threat to dairy in New Zealand is. Spoiler: It's not plant-based "milks" at all
Some farmers are convinced that the biggest threat to New Zealand's dairy sector is the ingredient industry alternatives that are driving business. Consumers, they say, do not pay attention to whether the skimmed milk powder used to make the candy bar they enjoy comes from New Zealand or from another part of the world. Therefore, in their eyes, the raw material from New Zealand does not have the main advantage that their liquid milk has, namely a long tradition and an established position on the world market.