What else? 159th Edition of Foodcom DAIRY Newsletter

Publication date
20 December 2022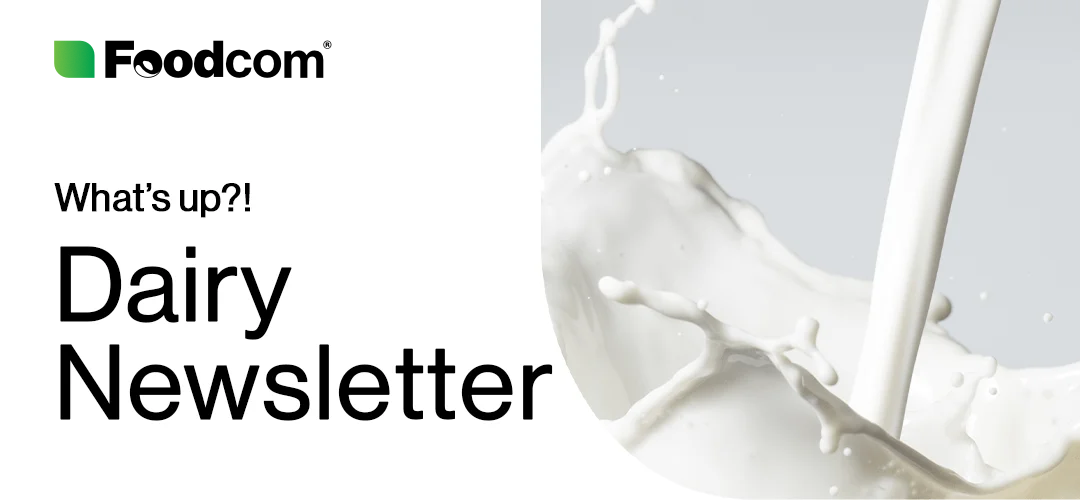 Europe
Sustainability will be the factor that will have the greatest impact on the dairy market situation in the European Union
Total milk production in the EU is expected to decline by 0.2% per year in the 10 years to 2032. This will be mainly due to a reduction in the dairy herd as environmental concerns lead to a reduction in the size and intensity of dairy farming. All in all, this is no surprise to anyone following the current market situation… 
Irish people love dairy products!
New research shows that dairy remains a popular part of Irish consumers' meals – 92% say dairy is in their diet, and more than half (66%) believe their meals would not be the same without their favorite dairy products. Milk, cheese and yogurt are the most important of these. It is likely that the Irish are not the only ones who hold this opinion.
Novozymes and Chr Hansen join forces to develop biological solutions.
The companies have announced the formation of an official partnership to unlock the full potential of biological solutions and create significant value for all stakeholders and society at large. The long-term outcome is expected to be biological solutions that enable healthier lives, transform food systems and accelerate the process of creating a climate-neutral society.
The Americas
Researcher of the University of Guelph in Canada is using automated data collection to help farmers create customized nutrition plans
They should improve dairy cow health and production. As Patty Kedzierski argues, most dairy farmers feed their herds uniformly and tailor their diets to the needs of a representative cow. Using the latest technology, including sensors and 3-D cameras, should make it possible to tailor diets to a specific cow, increase production efficiency and reduce the health risks. Impressive! 
Exports of U.S. dairy products increased 9% on a milk dry equivalent basis in October
That marked the seventh consecutive month of growth. Most product categories posted increases, including skim milk powder, which posted its first annual increase since November 2021. For the first 10 months of the year, the volume of U.S. exports in dry milk equivalent increased 4%. The value of U.S. exports rose 24% to $818.7 million in October. Americans indeed "got milk?".
Nestlé, Fonterra sell Dairy Partners Americas to Lactalis
Swiss conglomerate Nestlé and dairy cooperative Fonterra have signed an agreement to sell their joint venture in Brazil, Dairy Partners Americas, to French dairy company Lactalis. The deal is expected to close by the middle of next year. The sale of DPA is part of Fonterra's current strategy to focus on local production in New Zealand.
Asia & Oceania
India will produce and consume more milk next year
India's Central Bureau of Statistics forecasts that liquid milk production will increase by nearly 2% to 207 million tons in January-December 2023 (assuming normal weather conditions associated with the southwest monsoon in June-September and adequate feed availability). Liquid milk production in 2022 has been revised downward to 202.5 million tons due to an unusual monsoon, soaring feed costs, and an outbreak of bovine nodular disease. Next year, in turn, both milk production and consumption in India are expected to increase. What's more to say, a calmer year with more stable conditions would certainly benefit everyone.
The cost of living in New Zealand is rising, and inflation is not abating
The rising cost of food items such as cheddar cheese, yogurt and milk continues to be cited as one of the main reasons for food inflation. Food prices were 10.7% higher in November this year than in November 2021, and the cost of living in New Zealand has risen so much recently that many residents can no longer afford to buy groceries on a regular basis.
The markets of Indonesia, Malaysia, Singapore, the Philippines, Thailand and Vietnam are among the countries with the fastest growing demand for dairy products in the world
Imports in these countries are expected to reach nearly 19 million tons of milk equivalent by 2030, up from 12.9 million tons in 2020, surpassing imports from China. In addition, rising per capita income is leading to a change in traditional diets – consumers are increasingly appreciating the benefits of dairy products, which are considered beneficial for child development and the health of the elderly. Due to its geographical proximity, this destination is becoming a leading market for Australian exporters looking to expand and diversify. It is definitely worth keeping a close eye on this topic in the near future.