30th Edition of Foodcom ADDITIVES Newsletter
07 April 2023
Reading time: 6 minut

Publication date
07 April 2023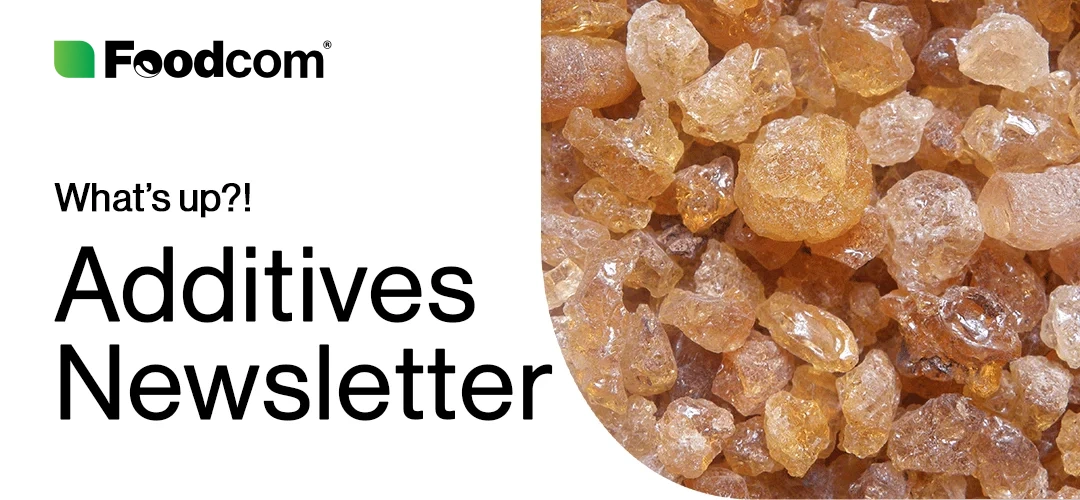 Knowledge is one of the most valuable things (if it is a thing at all…) to possess (if it can be possessed at all…) (another bracket because why not…). And here we come, the creators of your favorite newsletter, with another portion of the freshest market knowledge, served up in a most attractive form, completely free of charge. How cool is that?
In general, the situation in the additives market has become relatively stable, after all, the holidays are just around the corner, and in some countries they have already begun. If you too have started celebrating before receiving this newsletter, we say hello to you from the past and appreciate that you started your return to work by reading our message. Because you did, didn't you?
In this edition of the newsletter, among others: Xanthan Gum, Lysine, Threonine, and Taurine. It's not likely we need to encourage you to read any further, so here we are, officially ending the introduction.
Xanthan Gum
There is a demand for Xanthan Gum, although less than before. The availability of the raw material in the market is satisfactory. The predominant place of production is China, but anyone familiar with this commodity knows that, so why are we even writing about it? The pressure on prices is being felt. There are claims that there may soon be shortages of goods from China, which will be less reliant on exports than many expect.
Lysine
Lysine producers had hoped to raise the price of the commodity significantly, but the market responded to them with… falling demand. So they decided to let it go (a little). Currently, the price of the feed grade has remained stable for several weeks.
Threonine
Threonine is another commodity whose producers have recently tried to raise prices, but the effect has been similar – a decline in interest in this particular commodity. In this case, too, it is extremely important to keep a close eye on the market, as shortages may occur at any time due to a decline in export volumes.
Taurine
Although the demand for Taurine was greater in the past than it is today, it is also currently at a fairly satisfactory level. It seems that the price will soon begin to rise. The good news is that there are currently no problems with the availability of Taurine on the market.
Citric Acid
Citric Acid is also one of the commodities whose demand is relatively high, but it cannot be said to be at record levels. Availability is sufficient to meet market demand. Most of the raw material is of Chinese origin. Currently, virtually all manufacturers offer the raw material at a very similar price.
Sodium Nitrate
Sodium Nitrate has been in quite a bit of demand lately. That's not surprising because it's a pretty explosive commodity (if you know, you know).