20th Edition of Foodcom ADDITIVES Newsletter
04 November 2022
Reading time: 9 minut

Publication date
04 November 2022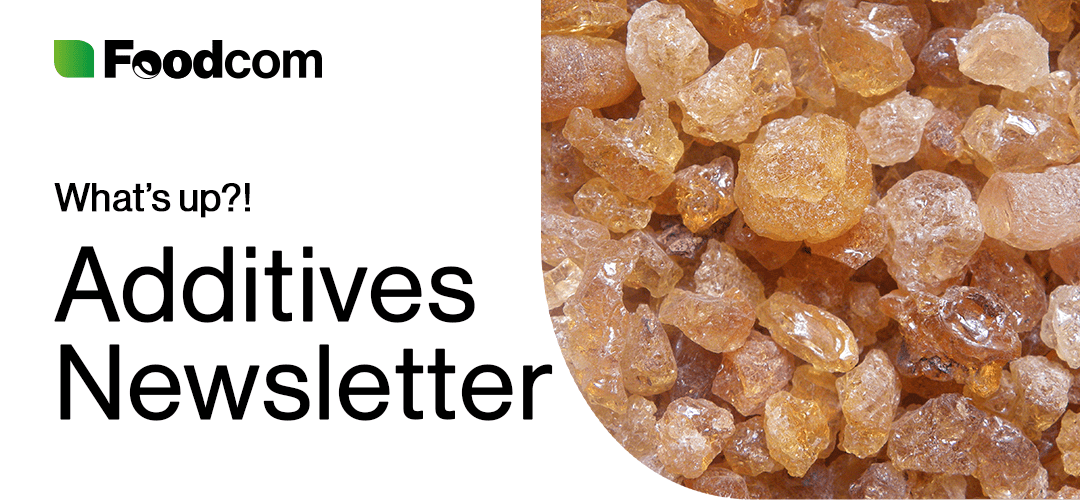 The last quarter of the year is usually a time to make summaries, plans and predictions for the near future. At present, practically everyone is wondering what awaits us in 2023. Should we prepare for several months of profits, or brace ourselves for a crisis? There are many indications that both scenarios will become reality.
Rising nitrogen fertilizer prices and supply issues are a problem that will affect farmers around the world. Many are announcing a reduction in fertilizer use, which will undoubtedly have a negative impact on crop yields, which in turn will affect the amount of food available on the market. It looks like the peak of the food crisis is still to come.
At the same time, the last few weeks have seen small but noticeable price declines for individual commodities and products. There is no doubt that this is a fascinating time in terms of the dynamically changing market situation. It should be carefully monitored in order not to miss anything, effectively predict the future and come out unscathed from any challenges in the coming year. Continue reading to learn about this week's market insights!
With us, you'll never miss a thing!
Vitamin C
Since the end of June this year, Vitamin C prices have been steadily falling, but the situation on the European market remains favorable. The business of raw material exporters continues to be hampered by the ongoing Ukrainian-Russian conflict, as a result of which transportation costs have increased and the flow of goods to Europe has become more complicated. End-user demand has been stable throughout the quarter and remains so. At the present time, suppliers have sufficient inventories to meet local demand.
Citric Acid
In recent weeks, Citric Acid prices have stabilized due to the steady demand in the market and sufficient availability of supplies to meet consumer demand. A significant amount of inventory destined for the domestic market subsequently triggered a slight decline in prices. Fearing losses, producers were forced to sell the product at lower margins. 
Xanthan Gum
Due to the difficulties associated with the COVID -19 pandemic, many production facilities were closed, causing delays in deliveries. Despite this, demand for Xanthan Gum remains high, primarily due to its wide range of applications in various industries, including the manufacture of thickeners, stabilizers, fat replacers, coating materials, gelling agents, fertilizers, detergents, adhesives, sealants, and other applications in food, beverage, pharmaceutical, and personal hygiene products. The U.S. FDA has recognized the use of Xanthan Gum as safe for direct human consumption under CFR 21 and allowed its use in food, beverage and pharmaceutical products, which is expected to further increase interest in this raw material.
Lysine HCL
The European commodity market shows similar trends in pricing as the North American market. End-user demand for products remains volatile. In addition, weaker purchasing activity has significantly supported the downward trend in Lysine Hydrochloride prices in the regional market. Lower demand has led manufacturers to stockpile the product. In addition,  the Russian-Ukrainian war, the decline in trading activity, and inventory levels had a negative impact on Lysine Hydrochloride price trends. 
Ferric Chloride 40%
Experts predict that the Ferric Chloride market will witness a growth of 5.5% during the forecast period from 2021 to 2028, reaching a value of $9,821.993 million by 2028. Increasing demand for this substance in wastewater treatment plants is cited as one of the major factors driving the projected market growth. Owing to its solubility in organic solvents and exothermic nature, which helps increase the reaction rate, it has a wide range of applications, including chemical, pharmaceutical, metallurgical, and electronic industries. For this reason, market developments surrounding Ferric Chloride are closely followed by professionals in various industries.
Sodium Hydroxide 50%
High war-related inflation has driven up Caustic Soda production costs due to rising energy prices in the European region. In addition, a reduction in natural gas supplies from Russia and a drop in Rhine water levels during the hot season increased input costs for the product. At the same time, the depreciation of the European currency against the U.S. dollar created cost pressure in the Caustic Soda market. Ultimately, we have seen a decline in raw material prices in recent weeks. 
Sodium Hypochlorite
In Europe, Chlorine availability has been limited, which has affected Sodium Hypochlorite production in recent weeks. The cost of Chlorine has also fallen in India, which in turn has affected Sodium Hypochlorite prices in the European region.