171st Edition of Foodcom DAIRY Newsletter
29 March 2023
Reading time: 8 minut

Publication date
29 March 2023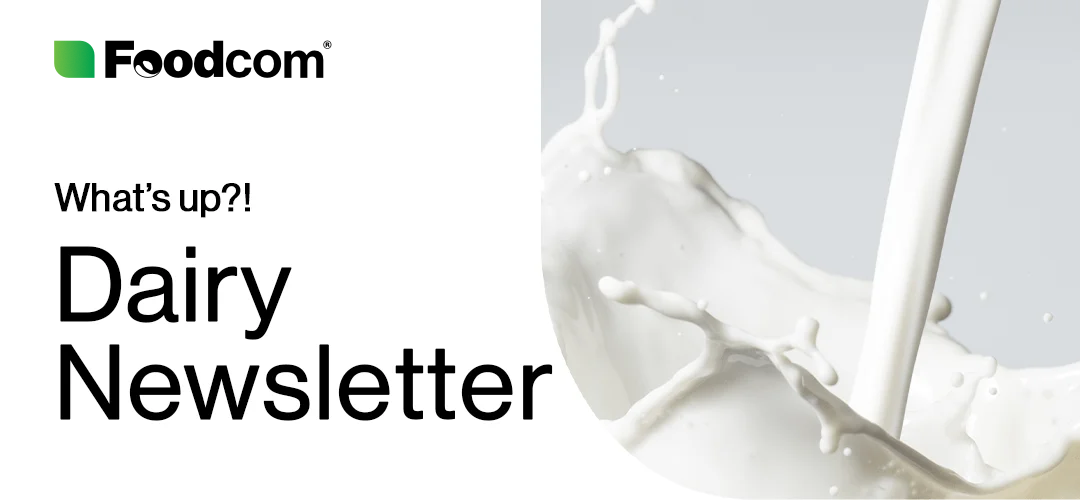 Things have been relatively quiet in the dairy market lately. It seems that many producers simply do not want to unveil all their proposals and offers at once to be able to influence the current situation. Some market observers talk about time travel – it's possible that they mean prices that look suspiciously familiar (have we seen them already two years ago?).
In the case of selected products, it can be seen that all stocks have already been made before Easter and interest in them has noticeably decreased, but there are some that are now experiencing very high demand (which will also eventually decline, such is the circle of life or the law of the market). Also, buyers want to buy cheaper and sellers want to sell more expensive, but that's not unusual, is it?
The eyes of many are on China, which is not particularly surprising considering how long the entire market has waited for the country to reopen. The current demand for dairy products is at a level similar to the end of 2022, which means it is much lower than in a similar period in previous years. The reasons cited are the relatively high prices and increasing milk production in China. How will this affect the global market? Time will tell.
Continue reading to learn about this week's market insights.
With us, you'll never miss a thing!
Skimmed Milk Powder
Electricity prices in Poland have been the highest in Europe in recent weeks. Poles pay more for electricity than the Swiss, and almost four times as much as the French. This situation clearly leads to a lack of competitiveness of Polish dairy against Western competitors. Until now, Polish dairies were characterized not only by excellent quality and good access to raw materials, but above all by cheap manpower and, ultimately, relatively low production costs. If the current state of affairs is maintained, the Polish SMP will not be able to compete with SMP from France or Ireland.
Butter
The final call for Easter purchases has already been completed in recent weeks. Last week we saw a slight upward trend in Cream prices (God knows why), but it did not carry over to Butter prices. Today we are already seeing that sentiment for Butter is down, and looking at the short-term future, demand is not helping the product to trend upwards.
Whey Protein Concentrate 80 Instant
The current price reduction has caused customers who previously avoided the product because it was not price efficient (in other words, the high price per unit was a problem) to return to this commodity and use it again in their own formulations. However, this does not change the fact that producers are struggling to sell solid volumes (contracts are now mainly on a truck-to-truck basis).
Gouda/Edam
While producers were keeping prices high, trading platforms were showing transactions at 100-150 Euros below producer prices. The question is whether they are playing for declines or actually indicated prices already available on the secondary market.
Cream
Due to Easter demand, the price of Cream has increased. At the same time, there are already the first voices saying that Cream could drop slightly around Easter itself. Will this actually be the case? We will find out soon enough.