159th Edition of Foodcom DAIRY Newsletter

Publication date
21 December 2022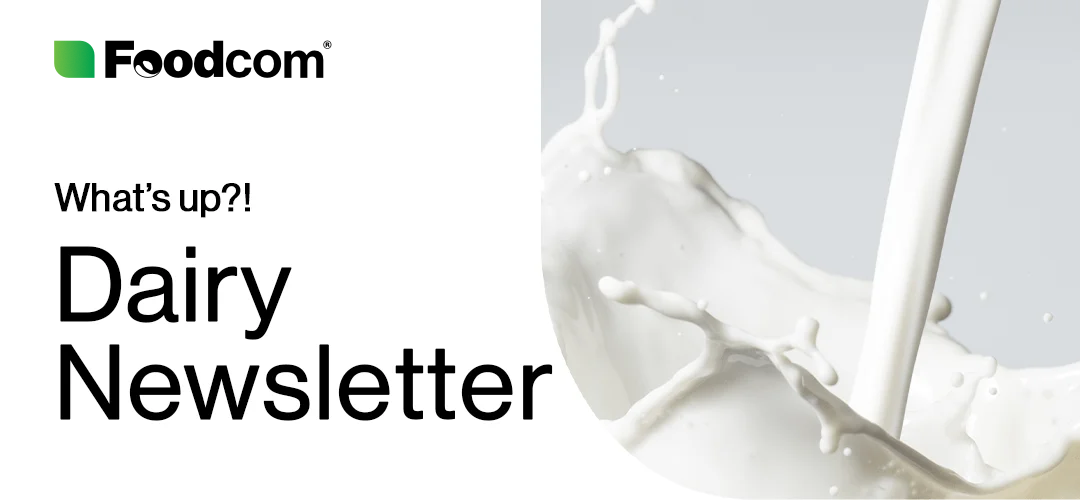 Although most people are now thinking about rest and celebrations and many have managed to go on well-deserved rest, the dairy market is not sleeping. Spot milk prices fell as usual before the holidays, and consumption has increased as it does every year. Sales of raw materials used in the production of cookies, candy and other products that are consumed more often during the holiday season have also increased.
Things are not slowing down in science, either. Scientists are working tirelessly on new developments, including those that have great potential to change the dairy market. Or at least improve the quality of life for cows. As always, you can read more about this later in the newsletter.
Your favorite Foodcom Dairy Newsletter editors are also going on a well-deserved break, so this is the last edition for 2022. We wish you all much peace, good food, a real rest, and a next year that will be better than this one. No bloodthirsty snails or other plagues. See you in 2023!
Skimmed Milk Powder
Last week, buyers had one foot in the holiday season. The decline does not seem to continue, and the market has stabilized. After the recent price correction in Skimmed Milk Powder, the market and some features have shown a green light for the coming quarters in the product.
Butter
Depends where you ask, but you gonna get it, but it depends at what price…  There was far less Christmas Cream (raw material at a low price) this year, due to the layout of the calendar and the relatively short Christmas holiday. Although at the beginning of the week a significant number of the larger Butter producers were reluctant to offer the product below €5.3/ KG, by the end of the week they had grown up to this decision.
AMF/Concentrated Butter 99.9%
With the Cream softening in the market and the Butter being cheaper, some buyers for the product of the high end of fat content came back to the market. At the same time the old prices did not favor Christmas production as much. People are looking forward to securing the cheaper at present product for the Q1 Easter production.
Gouda/Edam
Despite significant declines and a price drop of more than one euro per kilogram of the product in the last two months, there are no signs of price reductions on store shelves.