158th Edition of Foodcom DAIRY Newsletter

Publication date
14 December 2022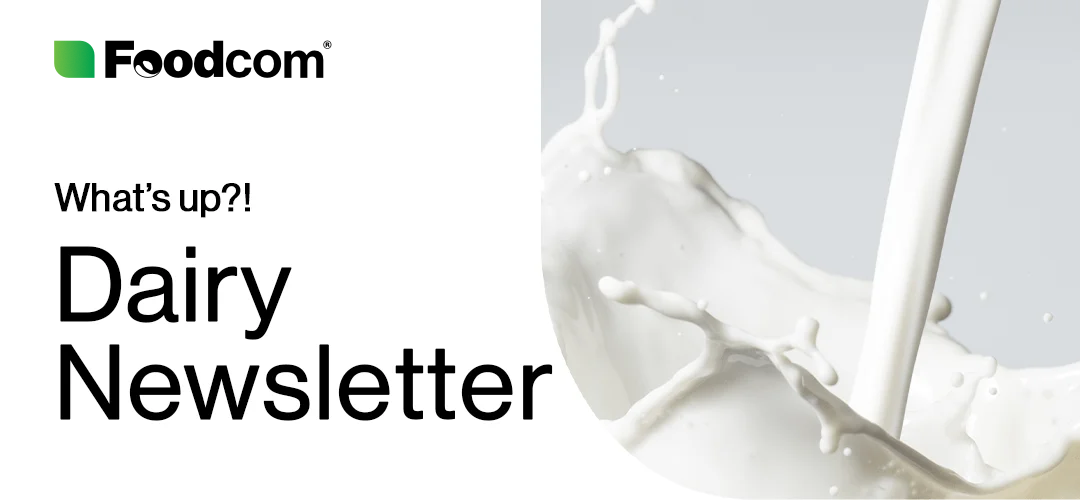 The holiday season is upon us, and with it comes a growing interest in the raw materials used to make goods traditionally associated with this time of year. One of the most important raw materials used in the production of chocolate, which is consumed by children and adults by the ton during the holidays, is Milk Protein Concentrate 85%. MPC continues to hold a strong position in the dairy products market. At the same time, there are reports from manufacturers that they are considering switching some of their production forces to other raw materials. So, it is worth not only to follow the latest information on this issue, but also to consider purchases, as the availability of the raw material may decrease in the near future. As for the dairy market in general, price ranges are wide and depend on how quickly producers are willing to liquidate their stocks. In the not-so- distant past, whey products were not in decline, and during that time milk products recorded a drop and later stabilized. Currently, whey is in decline, and it is uncertain at what level it will stop.
Farmers and ranchers around the world are increasingly objecting to regulations designed to make agriculture more environmentally friendly. There have been news stories on this topic for weeks. The problem is that many countries have long ignored the need for regulations that would gradually modernize agriculture in that direction, without individual farms suffering. Now the governments of many countries, including those of the Netherlands and New Zealand, have "woken up" and are in a panic trying to introduce regulations that radically change the rules of the game to the detriment of farmers. It's hardly surprising that farmers are fighting back. And speaking of rebels: Cows helped catch a criminal in Devon. But that's another story, which you'll read about later in this newsletter.
Skimmed Milk Powder
After a few weeks of market softening, we have reached a point where the product has become stable in the market, with no signs of further decline. Manufacturers are holding their prices, with no tendency to ease so willingly. Buyers have changed their approach to placing orders, moving to a quarterly/monthly spot basis for H1 orders to avoid regretting too many purchases. Although the Global Dairy Trade Index is showing some signs of increase, we are still hearing little demand from overseas in terms of export opportunities. ONIL is starting in Algeria, which will have the effect of stabilizing the market.
Butter
Depending on where you search, Butter is available at higher and lower prices from the ends of the range. The product is still uncovered by many buyers and at the same time is not liquidated by producers. This gives room for buyers to come up with prices that favor their side of the purchase.
Full Cream Milk Powder
Like most products, FCMP has been subject to recent price pressures. It is important to note that European Full Cream Milk Powder mostly stays in the domestic market. Even though the price has come down, the European product is still not competitive with products from the United States and Oceania. What may surprise many is that the price of rolled Full Cream Milk Powder is still at a higher level and is not showing the downward trend seen in the other types of this product. 
Gouda/Edam
Cheese has not proven to be the Holy Grail of the dairy industry. It has also come under severe price pressure. We can expect to start the new year with cheap cheese as part of our dietary resolutions.
WPC  80 Instant
The Whey Protein Concentrate 80% Instant is also not attracting much interest at the moment, as buyers are still waiting for a lower purchase level. The product started this year with a price of €10.50/ KG. We are now at the lowest level this year in terms of the product's price, which should encourage some customers to make purchases. 
Cream
Cream caught an early black week due to the good availability of raw material. That's pretty surprising given its color, so maybe we should rather talk about a cream week?